Help Caistor banner restoration
​A funding campaign has been launched to preserve a rare survivor of Caistor's past.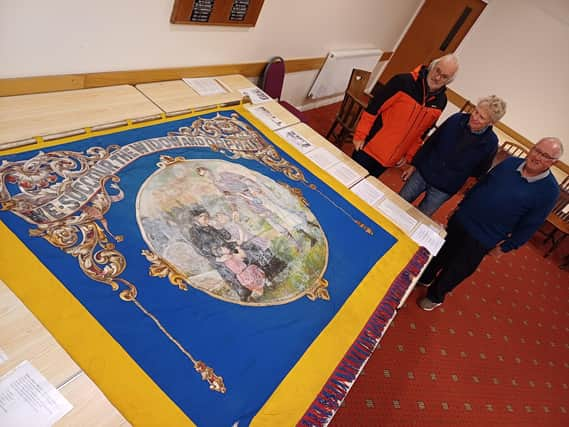 Friendly Societies were a big part of rural life in times gone by and one of those in Caistor was The Druid Society.
This was nothing to do with the religious group, but part of a national society where members paid in and, in times of hardship, the society paid out to them.
Now, the town's Heritage Trust has been gifted the banner owned by the society and they are keen to bring it back to its former glory.
Trust member Alan Dennis said: "There are many trade union banners surviving, but few friendly society banners, so it is a rarity.
"The banner had been gifted to the North Lincolnshire Museum and they have now passed it on to us, for which we are very grateful.
"The banner is top quality, made by George Tutill & Co of London. We have had it assessed by expert conservators and it will cost just over £4,000 to have the silk repaired and the images on both sides cleaned.
"While it is hoped some of this money will be raised through grant funding, it is important to show community support for the project by making donations towards the restoration, which is why we are appealing to people and businesses."
The Caistor Druid Friendly Society was formed by town coachbuilder Thomas Johnson in 1859, with 13 people.
By 1885, there were 199 members, which was 10 per cent of the population, and at the 44th anniversary dinner in 1904 it was reported there were 300 members.
Members paid a small subscription to raise a fund for the relief of members in sickness or when there was injury during employment, as well as a sum secured on death for widows and family.
In the days before the welfare system, society membership could mean the difference between life and death, with medicine and medical attendance being paid out of the fund.
The society continued until at least the 1930s.
Mr Dennis added: "The banner was used in many parades and we would love to have it on display in the town."
Donations can be made by bank transfer to Caistor Heritage Trust Sort code: 51-81-34; Account: 87702215 adding a reference of 'banner' or by cheque payable to Caistor Heritage Trust.