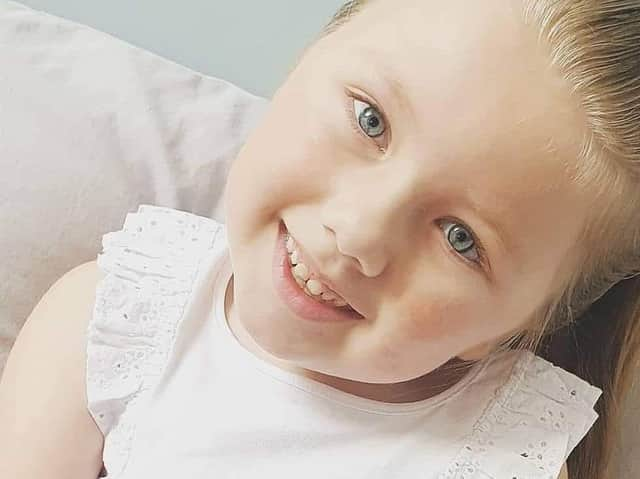 Reiko Jasmin Woods of Skegness needs £60.000 for life-changing surgery.
However, every day the six-year-old from Skegness suffers pain we cannot begin to understand, struggles to sleep through the night, or relax and enjoy her life as she so desperately dreams to.
Reiko Jasmin Woods suffered brain damage caused by a lack of oxygen before or during her birth.
This caused a condition called Periventricular Leukomalacia which has led to her having Spastic Quadriplegic Cerebral Palsy and also global development delay.
The chronic pain she experiences is caused before the muscles in her arms and legs are extremely tight.
Unfortunately, treatment is not offered on the NHS and now her her parents are crowdfunding to raise the £60,000 needed for a life-changing operation.
Parents Chris and Jade Woods, of Brunswick Drive, have so far raised just over £4,600. They said: "Our daughter is not able to do things most other children her age or younger can do.
"She can't crawl, stand, walk or even chase after her big brother, Blake.
"Reiko's fighting spirit has proved to be infectious. As a family we try our best doing physiotherapy, stretches and activities to help loosen her muscles.
"We now desperately need help to get surgery, a life changing operation called Selective Dorsal Rhizotomy, which will dramatically change Reiko's life.
"Having this operation would be followed by a minimum of 18 months intensive rehabilitation, physiotherapy and use of specialist equipment is required.
"Sadly, we have been told we cannot receive these treatments for Reiko on the NHS.
"With this operation her quality of life will improve a lot. She will be pain free, she will sleep through the night, and it will improve the ease of her care forever.
"Our daughter has the warmest smile you will ever see. As a family we want to give her the best possible life we can, but this is a cost we just cannot meet."