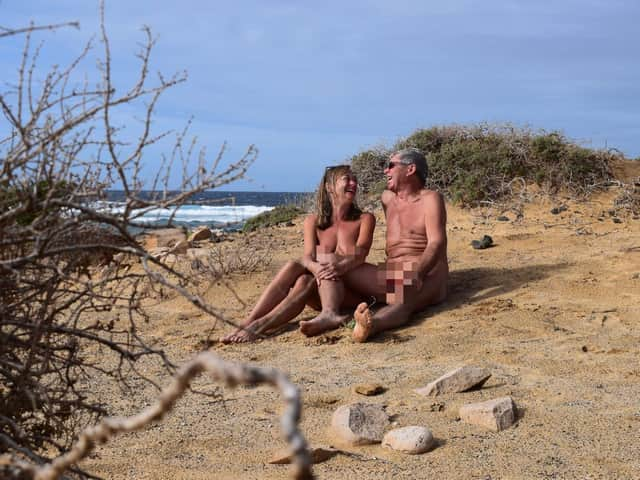 With a log burner keeping the temperature toasty in his home, you might think there is nothing unusual about this - until you learn he is naked.
"Our home is really warm, so we don't feel the cold," said John, feeling refreshed and planning another trip outside to take out the bins.
"It makes you tingle all over your body and is really invigorating.".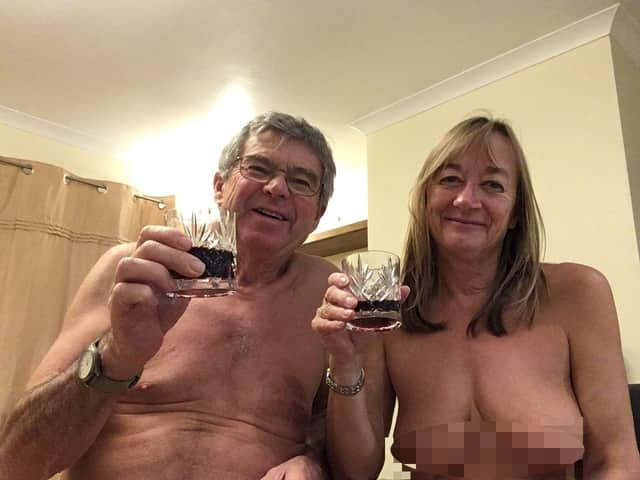 John Price and his wife, Donna, are two of the county's growing number of naturists, who prefer to bare all while most of us are layering up against the elements.
However, with a rise in people suffering with mental health and body confidence issues, they believe more of us should try it.
"Being naked is liberating, you feel free - and that is something people are struggling with at the moment," explained Donna, 55.
The couple were first introduced to naturism 10 years ago when they visited a naked beach in New Zealand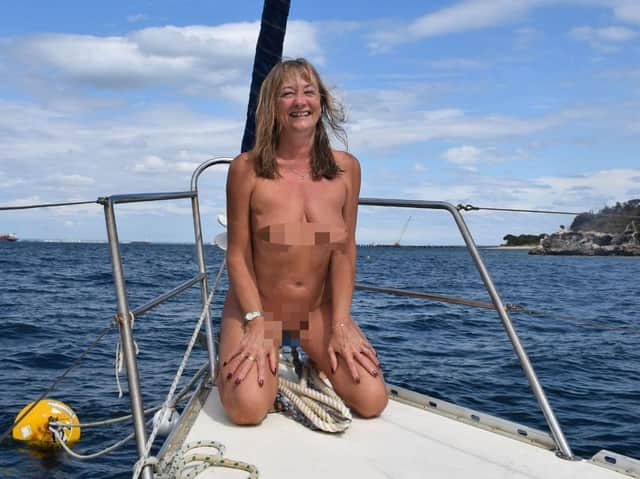 They moved to their home in the Wolds countryside near Spilsby from Kent six years ago after visiting the county on holiday.
"We never realised how beautiful Lincolnshire was until we visited a friend, who is also a naturist," said Donna, who admits to being a fair weather naked walker.
On the occasions they have ventured out in clothes to go shopping, they say they have already noticed people's moods changing.
"When we first came here people seemed much friendlier - although we have noticed lockdown is making them grumpier," said John, 70, a retired signalling tester.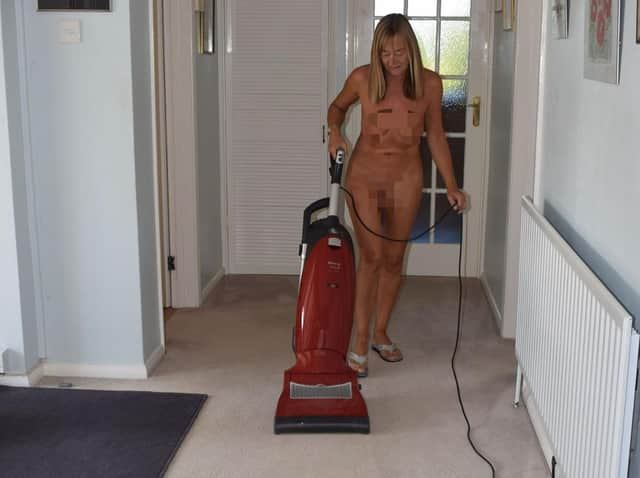 "People get upset when you can't hear what the are saying because of the masks and only seeing their eyes makes them look like they are glaring at you."
Happy to stay at home for now decorating, he says he wouldn't dream of wearing any clothes.
"I get hot doing things anyway and wearing no clothes saves you getting them splashed with paint," he said.
"But there is so much more to this."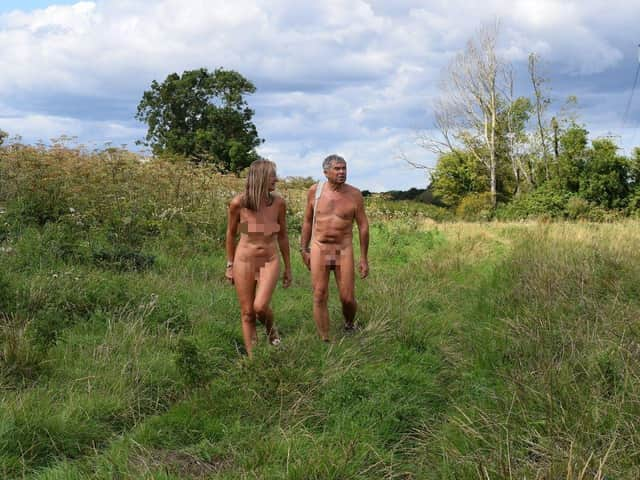 While John is decorating, former office clerk Donna keeps busy as a volunteer for British Naturism and head of the Women in Naturism campaign.
Since lockdown membership has rocketed, with many more people from around the world getting naked online to take part in a number of activities such as art, cooking, yoga and pub nights.
"The mental health benefits to getting naked are immense.," said Donna. "The campaign has really brought a community together.
"In a time where none of us could go out into the real world, it's helped us to stay connected."
Helping people with body confidence is also a major factor. "You have to try being naked to realise how liberating it is," said Donna.
"Once you have visited a naked beach you don't notice their bodies - you see them as people.
"So many are struggling with body confidence at the moment - and it's not just women. With the focus on men's gym bodies and grooming products, men are struggling too with body confidence.
"Being naked is a great leveller too. When you meet someone for the first time your impression of them is made in seconds and it usually reflects how they look and what they are wearing.
"When you meet someone who is naked who cannot pre-judge them because you can't tell their background - everyone is the same.
"It's lovely to visit naked beaches and see families not bothering about how they look.
"Science is already showing that children of naturist families grow up with far less body issues.
"Small children have no problem running around naked - it's the adults who tell them they are wrong and that is where it all starts."
Apart from the mental health benefits, the couple say being naked helps the environment.
It also cuts down on household chores. Donna admits she only irons every three to four weeks and rarely needs to do a big wash.
"You don't have to worry about buying clothes and save money, water and power not having to wash them," said John. "We get a shower every day - we just don't get dressed."
Although lockdown means there are more walkers in the countryside it might be a few more weeks before you come across Donna and John.
"There are many secluded spots in Lincolnshire but if we do come across anyone the majority of responses are actually very encouraging," said Donna.
"There is nothing like feeling a warm breeze on your body and we feel more people should try it."
British Naturism is running a campaign encouraging more women to join. Another campaign, Just One Person, is about speaking to people outside the community and enlightening them to what it is all about.
Despite often unreliable weather, naturism is thriving in the UK and there are plenty of easy opportunities for naturism when lockdown restrictions are lifted, according to British Naturism. Although there are no official naturist groups in Lincolnshire, walking naked on public footpaths (and public beaches) is a perfectly legal activity and details can also be found on the British Naturism website.
There are plenty of beaches around our beautiful coastline for naturists, from wide stretches of fine sand close to popular tourist spots to more secluded locations far from the crowds. British Naturism says, on a hot day, there is nothing better than getting an all-over tan, skinny-dipping and enjoying the company of like-minded people on a lovely beach. Lincolnshire has a traditional naturist beach situated at Northcoates Point, south of Cleethorpes.
From simple camp sites to luxurious self-catering accommodation, through spas and Bed and Breakfast in private homes there are lots of opportunities to have a naturist break in the UK. Many clubs also have camping facilities, some with accommodation for hire. The variety of locations means naturists can enjoy all the great things that the UK has to offer as a holiday destination, and come "home" to a naturist place in the evening to truly unwind. In the Spilsby area there is a five-star naturist holiday campsite at Lakeside Farm in Station Road.
British Naturism organise plenty of events throughout the year and support and participate in others. Some are hosted in naturist locations but there are a large and increasing number which take place at well-known public venues. They range from week-long and weekend events with accommodation, to days out and evenings. They include gardens, stately homes, beaches, leisure centres, boat trips, art/exhibition spaces, waterparks, holiday parks and hotels. Trophies for sporting excellence are also contested annually with teams representing the UK abroad against overseas opponents. Overseas group holidays are also arranged.
There are no official naturist groups in Lincolnshire, however walking naked on public footpaths (and public beaches) is a perfectly legal activity and details can also be found on the British Naturism website.
Lincolnshire has a traditional naturist beach situated at Northcoates Point, south of Cleethorpes.
The Spilsby area also has a five-star naturist holiday campsite at Lakeside Farm in Station Road.