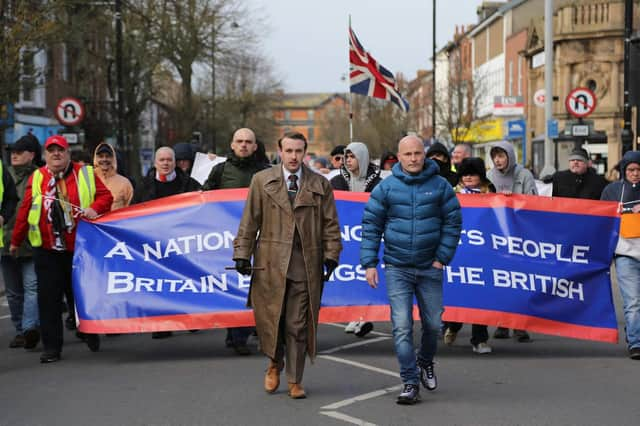 Several hotels in the resort are expected to continue to house asylum seekers, a council leader has said, in spite of continued opposition to the practice.
Craig Leyland, Conservative leader of East Lindsey District Council, has said the hotels' contracts had been extended through the tourist season and beyond.
The comments follow the "Enough is Enough" march through Skegness last month which was co-ordinated by far-right organisation The Patriotic Alternative.
Hotels in the town were boarded up when around 200 people took part declaring their opposition to a government initiative to house up to 500 asylum seekers and refugees at hotels in seaside town while their applications are processed.
To date, five hotels in the prime tourist area of Skegness have been procured for hostel use by the government with a number of others also dotted elsewhere in the county.
The Home Office has said a record number of arrivals was "placing unprecedented pressures on the asylum system".
Today (Tuesday) the Government announced a new law to stop the illegal boat crossings.
One important clause is that only those who come directly, by air, from their home country - such as Afghanistan or Iran - will have a legitimate claim to asylum. If they come by train, boat or lorry, through the territory of safe countries, they will be criminalised on arrival.
Another important clause is that there will be only one allowable argument for an asylum seeker, who has arrived in the UK without prior permission, to seek leave to stay here - which is to claim that he or she would suffer "serious and irreversible" harm if removed from the UK.
Mr Leyland said the impact of the continued use of hotels in Skegness to house asylum seekers who are allowed to stay would be "hard to judge", although there had been anecdotal evidence to the council of bookings having been cancelled.
"It's frustrating because I know the local tourism industry is very dependent on access to good quality accommodation," he said.
"We've have five hotels taken out of use and, reputationally, I'm aware this is impacting on Skegness and we would like to see a return to its normal function."
Officers at the council are building a case for potential action against hotels being used as hostels for asylum seekers.
The authority believes the government has unlawfully changed the use of the hotels against planning policy and has not applied or obtained the right permissions for the uses.
The council has previously written to the Home Office suggesting it could pursue a judicial review against their continued use.
The Home Office said there were currently more than 45,500 asylum seekers being housed in hotels across the country at a cost of £5.6m a day.
"The number of people arriving in the UK who seek asylum and require accommodation has reached record levels, placing unprecedented pressures on the asylum system," a spokesperson said.
"While we accept hotels do not provide a long-term solution, they do offer safe, secure and clean accommodation.
"We are working hard with local authorities to find appropriate accommodation during this challenging time," they added.