2,200 miles walked, £24,000 raised - and 890 pints of beer supped! Chris Jones's Walk the Edge challenge so far
​More than 2,200 miles – and 890 pints of beer – into a round-UK walking challenge, a Lincolnshire Freemason has re-entered England after finishing the Scotland leg of his trip.
​Chris Jones, from Woodhall Spa, set off on a round Britain walk on January 1 this year, aiming to raise up to £100,000 for the Freemasons' charity the Masonic Charitable Foundation (MCF), a charity he credits with saving his life after suffering with his mental health.
He estimates will take up to 18 months to complete the 7,000 mile Walk The Edge challenge, and he has now successfully made his way all the way up the east coast of England, all around Scotland, and has made it to Cumbria.
Chris said that while the trek around Scotland boasted stunning views, it was incredibly tough going around the west coast of Scotland – to the extend that he island-hopped his way around the latter stages by moving across the the Isles of Skye and Mull: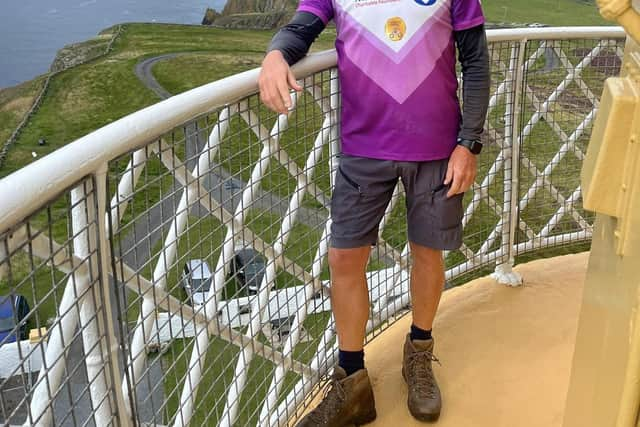 "I'm not displeased to be back in England," he said, "The problem is that there's not many paths, there's a lot of steep cliffs, and a lot of the terrain is swampy so it's definitely been the biggest challenge so far, it's been brutal."
Chris said that the recent spell of hot weather hadn't bothered him, and is anything he was grateful to be out of the rain as it rained so much on the west coast of Scotland:
"I'm not bothered by the heat at all and there's always a nice breeze on the coast, but I was so glad to be out of Scotland as I was getting to a wet tent every night and carrying around a wet tent all day, and I had quite a few down days."
His adventure also took a frightening turn when he was knocked over by a French motorhome which was overtaking a slow-moving motorcyclist, and clipped him with its wing mirror.
Luckily, a passing policeman was on hand to check that Chris was ok, and to reprimand the motorhome driver.
Now back in England, Chris's journey has seen him continue down the Cumbria coast, and when we caught up with him in Barrow in Furness yesterday (Wednesday) he said the people of Cumbria have been incredibly supportive of him and had not only offered places to stay, but joined him for stretches of his walk.
Amusingly, Chris said he had been teased by friends back here in Lincolnshire who joked he was undertaking the "world's longest pub crawl" and when he went back through his blogs and photos, he worked out he had drunk 890 pints in the nine months he has been on this challenge!
Incredibly, Chris said his body is in quite good condition as he has learned to listen to his body and take rest days when he needs them, a lesson he learned harshly as he walked for 12 days solidly without a rest day and pulled a muscle in his Achilles.
"I need to remember that I'm not trying to break any world records here and just need to keep healthy and hydrated," he said, "My feet always hurt and feel as though they're being battered, so I've got to be sensible."
Chris also has a dedicated website where people can support him in his journey to lessen his expenses by buying him a coffee, which can be done via his profile on the website at buymeacoffee.com/rbn6r6n7478
So far, Chris has raised more than £24,000 for the MCF. To make a donation, visit https://bit.ly/3Cg32Jo
You can keep up to date on Chris's progress by visiting his blog at www.walktheedgemcf.com