Concerns for town centre among opinions on £20m development plans
People have been reacting to the news that a £200million investment could be coming to Louth's Northfields estate.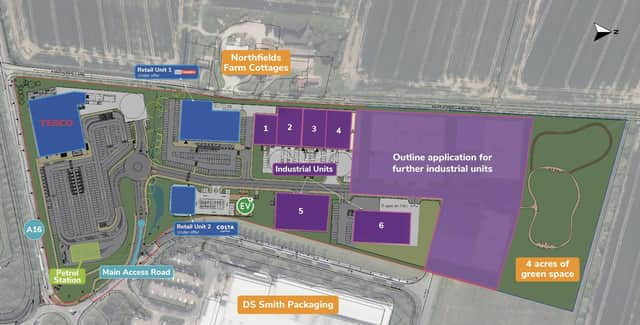 The plans will see a Tesco – with 228 parking spaces – Costa coffee, and Home Bargains stores opened on the site, as well as a petrol station, a number of industrial units, and four acres of green space which will create new habitats for wildlife.
​Mayor of Louth, Jeremy Baskett, said that while the increased infrastructure will support our growing town, he said the town needs to be mindful that these plans do not have an impact on our town centre.
"My initial thoughts on the Bride Hall proposals are that Louth is a growing town, with probably a population soon to be closer to 20,000 rather than the 17,000 still quoted," he said, "Our town will require increased infrastructure to continue to support our growing population and to continue to draw people from neighbouring areas to help keep Louth a thriving town.
"However, we need to be very mindful of the effects of this proposed development to make sure we do not damage the town centre, by leeching trade out of the centre and consider ways to enable the Town centre to thrive.
"The most important message I have on the development is to make sure that people feed their views into the public consultation.
"The Town Council will be making its collective comments to ELDC once the planning application is submitted."
Gary Denniss, chairman of the Louth Independent Traders, was similarly concerned for the future of the town centre.
He said: "I'm still mulling it over, but I don't think it will be good for the town centre.
"Yes, the new jobs will be a good thing, but how many businesses in town will close because of this?"
The plans have detailed the location as "instilling confidence in local businesses who need industrial space to remain in Louth and attract new ones to the town":
"The site can support other operational industries in the area, such as haulage, manufacturing and farming, fostering long term relationships and stable employment opportunities for the people of Louth."
William Flatau, Development Director at Bride Hall Developments, said Northfields Park would provide the investment needed to support a growing and thriving town.
He said: "This, combined with the hundreds of jobs which our development will offer, makes our development a one-of-a-kind opportunity for Louth and the wider East Lindsey District."
The news was met with mixed reviews from local people on social media, with some praising the opportunity for local jobs, and others expressing concern about the impact on the town centre's many local businesses.
Speaking in favour of the plans, one person said: "Great news, much needed for jobs will bring people and keep people in Louth instead of travelling to Grimsby."
Another said: "It is sad that big firms have to move into the area, but we have to move with the times & people's pockets unfortunately - I agree another Costas not needed lots of coffee shops already!!! but B&M & Tescos are well needed - Morrisons and the Co-op are way too expensive it won't affect Aldi."
But others weren't so favourable of the plans.
One person said: "If people can park up out of town, and nip in for most of their necessities, then a lot won't bother with the town centre. Our town is one of the few left which is made up of independent shops, which keeps it more interesting. Along with other occurrences, I really fear that this will change the shape of the town."
Another said: "I'm all for new shops and choices but I fear this will just further more kill the town centre and more property will be left empty. I would like to see more independent family run shops but people are put off due to the rates being so high, all there seem to be are coffee shops, barbers and charity shops. Louth could be like York but it's getting more like Grimsby."
A public exhibition will be held on Wednesday (May 17) from 3pm to 7.30pm at Louth Town Hall, Eastgate where people can hear more about the plans.
All feedback must be submitted by Tuesday, May 23.
To read more about the plans, and to submit your feedback, visit https://northfieldsparkconsultation.co.uk/#Haveyoursay