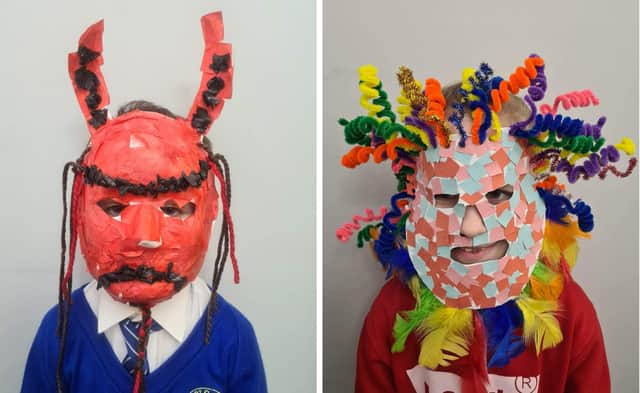 GALLERY: Children craft creative and creepy masks for cultural festival in Boston
The festival is thought to be inspired by old Baltic pagan traditions
Published 20th Feb 2023, 11:39 BST
Updated 20th Feb 2023, 16:19 BST
Children in Boston have been showing off real creative flair by making a huge variety of colourful masks for an upcoming Pancake Day festival.
From horned creatures, to bizarre animals and witches, the children have crafted an impressive variety of masks.
As we reported last week, the festival has been organised by the Boston Lithuanian Community to celebrate the start of lent and to bring local communities together.
It takes place from 1pm this Sunday, February 26, with a procession through the town to Central Park, where celebrations will be had, and pancakes eaten.
Children at Boston Lithuanian Supplementary School have been busy making masks for a competition being held ahead of the event. These creations will form part of the procession, accompanied by music and singing.
Residents are being invited to vote for their favourite mask via Facebook, with the top five winners being given prizes at the event.
Known as Uzgavenes, Lithuania's answer the British 'Pancake Day' or Shrove Tuesday, the event includes the burning of a symbolic effigy representing winter and 'evil', as a way of welcoming in the spring, and inviting happiness into our homes.
Traditionally, it sees children creating creepy masks to scare away winter. It is believed that the round shape of the pancakes will also help to welcome the return of the sun.
• To vote in the mask competition, where you can see more of the masks created, visit the 'Boston Lithuanian Community UK' via their Facebook page and 'like' your favourite masks. Voting finishes on February 24, at 6pm. Businesses who can offer suitable prizes to the children with the winning masks are also being asked to contact the group via Facebook.