Home Office announces virtual RAF Scampton event after council inspection
The Home Office has scheduled a new RAF Scampton community engagement event — virtual this time — after an inspection from West Lindsey District Council at the site of the asylum-seeker camp.
Watch more of our videos on Shots! 
and live on Freeview channel 276
Visit Shots! now
Scheduled to take place on Wednesday, September 27, via Microsoft Teams, the meeting will be open to residents and workers in Scampton, Lincoln, Welton, Dunholme, Aisthorpe and Brattleby, as well as Cammeringham and North Carlton.
The Home Office, in a newly released statement, said: "Attendees will need to sign up for the event via Eventbrite and will need to provide their home address or work address for verification. You will then be sent a link to join the virtual event."
Residents interested in joining can register their details via the link at shorturl.at/dfoWZ – some 1,000 tickets were available, although the Home Office may look to increase this based on demand.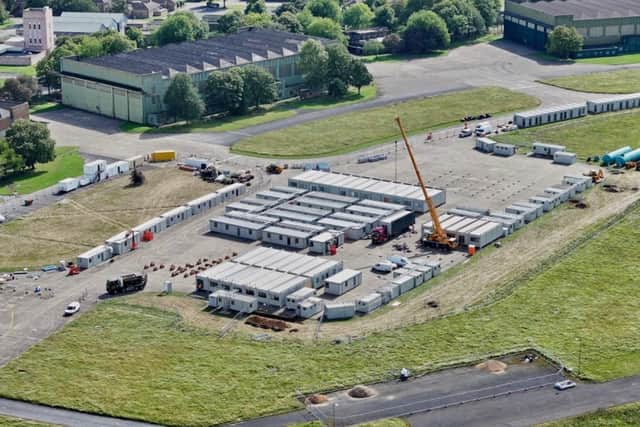 The notice requires the Home Office to stop work near the listed buildings, intrusive surveys and putting up fencing — but more portable buildings have been arriving on site all week.
Following the visit, Sally Grindrod-Smith, council director of planning, regeneration and communities, said: "We have been on site. The Home Office didn't allow us to take any images.
"There is no evidence to suggest the council's position has changed at this time with regards to the TSN and we await the Home Office's response. We are not withdrawing it at this time."
Local resident Sarah Carter, leader of the Save Our Scampton campaign group, has strong reservations about the upcoming meeting, dismissing it as yet another superficial "box-ticking exercise".
However, residents exiting the meeting appeared visibly frustrated.
Mrs Carter also took issue with the digital-only format of the new event. She highlighted the potential challenges faced by the elderly in accessing an online meeting, suggesting many could miss out due to unfamiliarity with social media.
During the last meeting, the Save Our Scampton leader proposed the Home Office adopt traditional communication methods, like door-to-door letter distribution, to ensure all residents receive the information.
However, this suggestion was rejected for being too time-consuming.
She said: "It's not fair that they've done it solely online this time. If they don't use social media, the elderly aren't going to see it.
"People tend to think that because it's a former RAF base it's filled with young families, but it's not."
Mrs Carter also mentioned the Home Office did commit to exploring the possibility of organising specific meetings for elderly residents at the local school at a later date.