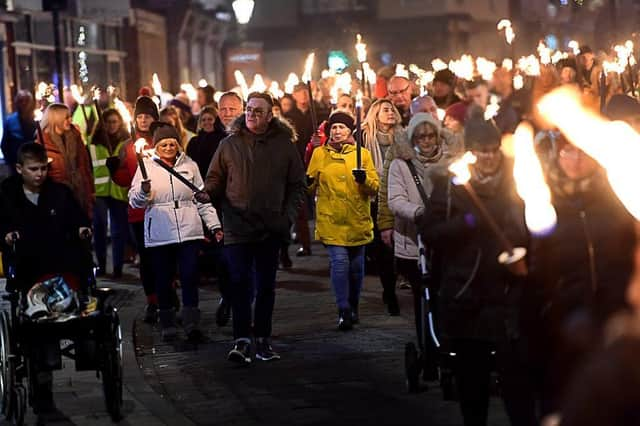 They walked shoulder-to-shoulder in memory of loved ones whilst carrying flaming torches as part of the Hospice's Light up a Life campaign, which sees supporters dedicating lights in memory of loved ones each Christmas.
To date, this year's Light up a Life campaign has raised more than £30,000, with around £4,000 more coming in from donations and sales of torches and lanterns last night.
The procession, which was the first mass participation event held by the Hospice in two years, was led by Steve Norton, a St Barnabas Hospice supporter who walked in memory of his parents: Margaret, a former St Barnabas volunteer, and John.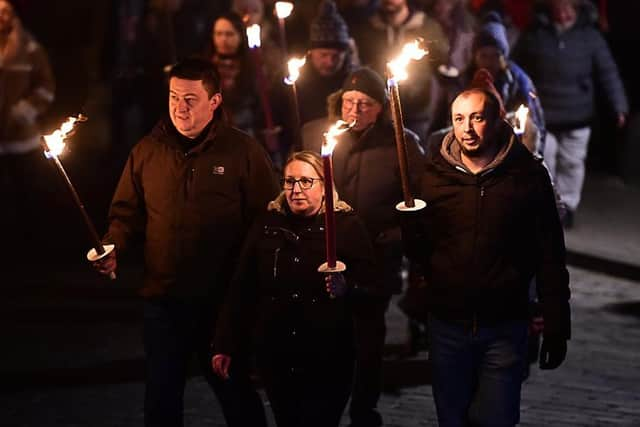 Steve said: "Mum absolutely adored the Torchlight Procession that St Barnabas organises each Christmas.
"When my dad was being cared for in the Hospice, the Procession stopped outside and played 'Amazing Grace' for the patients to hear. It really lifted his spirits, and I know it will have done the same for many others through the years.
"The year before she died, Mum was asked to share Dad's story as part of the Hospice's Light up a Life campaign, and this made her so proud.
"I feel humbled to now be sharing Mum's story this year and have dedicated two extra special lights to remember them both."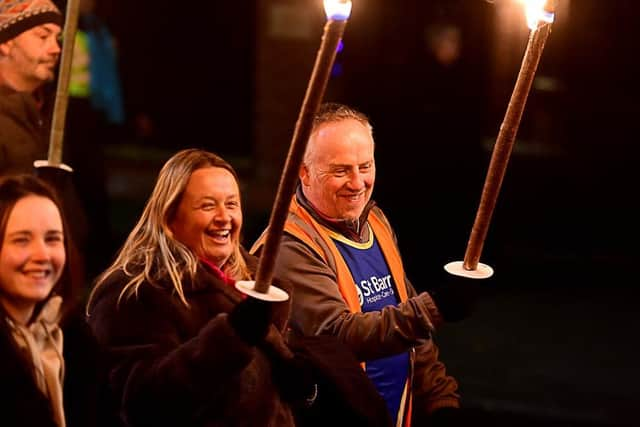 The procession walked just under a mile past the St Barnabas Hospice Inpatient Unit, through the iconic Bailgate and arrived at Lincoln Cathedral. A small service took place in which the lights on the Tree of Life were lit whilst the choir sang 'May the Road Rise to Meet You'.
Louise Cotton, Event Lead for the Torchlight Procession, said: "On behalf of everyone at St Barnabas Hospice, I would like to say what an amazing evening we had at this year's Torchlight Procession. The community came together to remember loved ones in a beautiful way and the weather was perfect.
"A huge thank you goes to all of our volunteers, runners and stewards who supported the event in various ways and to the community for joining us. There was also an incredible amount of local businesses that offered their support.
"Thanks go to Doddington Hall & Gardens, Allen Signs, Lincoln Cathedral, Our Lady of Lincoln Church, City of Lincoln Council Maintenance Services, Continental Landscapes, S. Lyon & Son Haulage Ltd., BBC Radio Lincolnshire, Lincolnshire Police, Lincolnshire Fire and Rescue, the RAF Waddington Pipe Band, TSS Events, Taylor Lindsey, Stamford Sound Hire, Bates Sound, Flying Hire Ltd, Lindum Rotary Club, Lincoln Christ's Hospital School, NatWest, Annie Griffith and her Community Choirs, Chevron Traffic Management Ltd, Mr and Mrs N Kirk, DPS Digital , St. Mary Magdalene's, Lincolnshire Co-op, Davis Trackhire, Steve Norton and family, The Subdean and Chapter of Lincoln Cathedral, , Lincoln BIG, Community 4x4 Response, SRP Hire Solutions, Highways and Planning.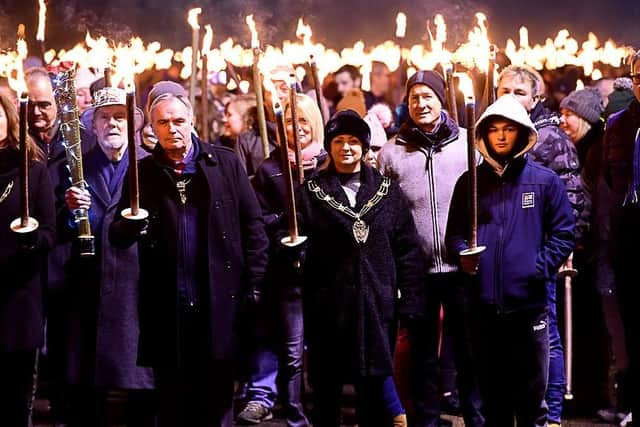 "The Tree of Life will be outside The Lincoln Cathedral until Wednesday January 5, and we welcome members of the public to visit and spend a quiet moment remembering their loved one.
"We heard some amazing stories and there were some truly wonderful people being remembered last night."
Those who were unable to attend the event are still able to dedicate a light on the Tree of Life online or watch the live streams on Facebook at a later date.
There is also a pre-recorded service available from the St Barnabas website.