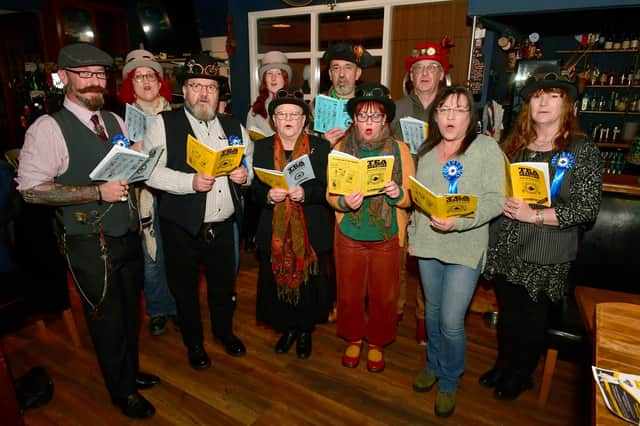 ​Horncastle's original Steampunk group the Fenwold League of Splendid Steampunks now have their very own shanty band, Full Fathom Five, and meet twice a month at Just One More Bike bistro.
FLOSS co-founder Captain Skirmish explains. "We originally got the idea for the shanty band back in 2018, and trialled as a four piece at a couple of events the following year.
"Being Steampunks, we thought the lyrics should reflect our interests, so the notion of tea shanties was born. The name, Full Fathom Five, is taken from a poem in Shakespeare's 'The Tempest', and we just liked it because it sounded like a sixties beat group!"
The group now sings along to tunes including 'What Shall We Do With A Dunkin'Biscuit?', 'I'll Go No More A-Brewing', 'John The Jetpack Hacker' and 'A Drop Of Mother's Ruin', with the emphasis on having fun and
giving the audience a smile or two.
The band now boasts nine members, and with four bookings so far this year, singers are enjoying getting together to sing of tea, biscuits, cake, gin and jetpacks, all set to traditional shanty tunes.
"I love singing, and having a Steampunk vocal outlet is just the ticket," said recruit Shellie Taylor, "Joining the Full Fathom Five has been so much fun; we have a laugh along with learning the songs. I'm attempting to get some harmonies going - it's going well so far!"