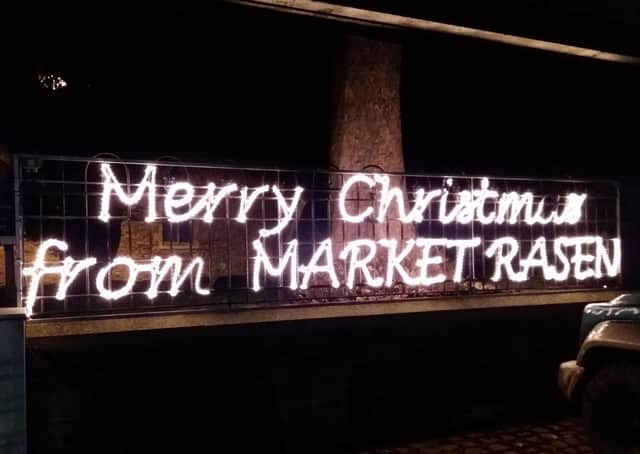 The group had planned to go big this festive season, with road closures to allow for an expanded Christmas market, together with a craft and gift event in the Festival Hall.
However, with the country still in the grip of the coronavirus, those plans have been altered - and may be changed even further as time goes on.
Town and District councillor Stephen Bunney, who heads up the group, said: "We are responding positively to changes put in by the government - any thing we do must be done safely.
"We will not be going ahead with the indoor stalls at the Festival Hall or the road closures, but we will hopefully be able to have some sort of open air market event on Saturday December 5."
However, the group is keen to bring a sense of seasonal cheer to the town and town partnership member Julie Taylor summed up what is needed in five words - "It needs to be bright!"
She continued: "We need to go all out this year and give everyone that festive feeling.
"People will be staying closer to home and when they walk down the main street, they should be surrounded by seasonal sights and lights.
"It is all very well having Christmas shop windows and the small Christmas trees above premises, but what we really need is lights - and lots of them - to make things as bright as possible for all ages to enjoy."
The group is now looking to do just that and is working with the town council to look at where the lights could be placed.
However, there is an inevitable cost to this plan and, while money will be saved by not requesting the road closures, money will need to be found to buy new strings of lights and other seasonal display shapes.
Coun Bunney said: "We hope residents, businesses and local groups will come on board to help make this happen.
"Any donations - however small - people can make to help brighten the town this Christmas will be gratefully received.
"I will be placing several collecting boxes for donations around the town this week - notably at Garnetts, Nice and Naughty, Mattus, Green Pantry, and the March Hare to begin with.
"It is hoped other shops and businesses will also be willing to accept donations."
Coun Bunney can also be contacted directly via email [email protected], Facebook or by calling 07506 188570.
Meanwhile, plans are already in place to extend the town's festive feel.
Coun Bunney said: "We will be placing a tree at Rhodes Corner for the first time, to complement the market square tree.
"We may be able to look at 'brightening' beyond the main high street, but we need to take in to consideration these areas are more residential."
Other plans are in place too.
Coun Bunney continued: "We will be running a Christmas window competition for the town's businesses, so we would encourage everyone to take part in what any way they can.
"We are also talking to businesses about the possibility of a late night opening event - or even more than one.
"A seasonal trail will be in place for children, which will also, hopefully, encourage people to see exactly what our high street has to offer."
Coun Bunney added: "We are currently seeing more business owners being interested in Market Rasen's high street, but we all need to work together and support our shops and local traders to help rebuild the local economy and sustain it for the future."