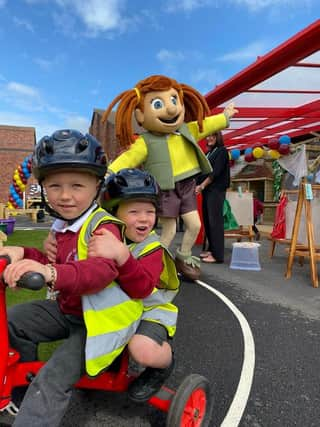 The original EYFS outdoor space at the school occupied a very small courtyard limiting activities and learning experiences for the children. There was also an old, walled off, disused swimming pool sitting behind the courtyard.
Three years ago the school decided to begin fundraising tin hopes of removing the old pool, which no longer meets regulations for teaching children to swim as it was deemed too shallow.
Goldie, Olly, Betty, and Flo from Blue Anchor Leisure, where the children currently go swimming, visited the school to spend time with the children and help them celebrate.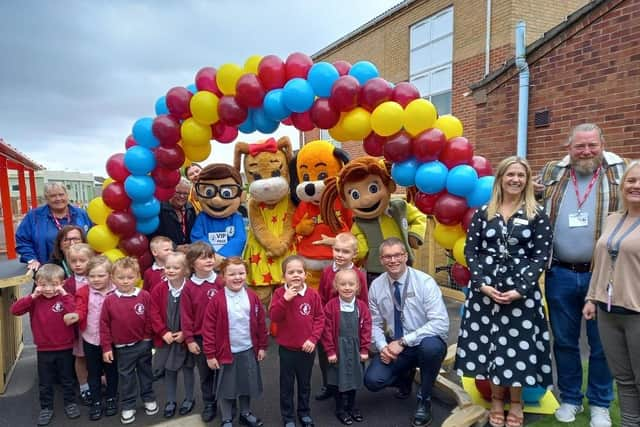 Also present were Jeanette Morley, Customer Services Manager from Tesco, who helped fund the project, along with Phil Ashbourne from
Shed Brothers (who created the playground installation), Chair of the School Governors, Lesley Coulthurst, former Chair, Pam Powell, Parent
Governor, Nicola Green, and Paul Hill, Director of Primary Education for the Community Inclusive Trust (CIT), who run the school.
The pupils put on a small performance for their guests on their new "stage" platform, and then played and had fun in the new outdoor learning area, which comes complete with an outdoor mud kitchen, construction section, water play, road markings, storytelling area, climbing prism, and vegetable planters.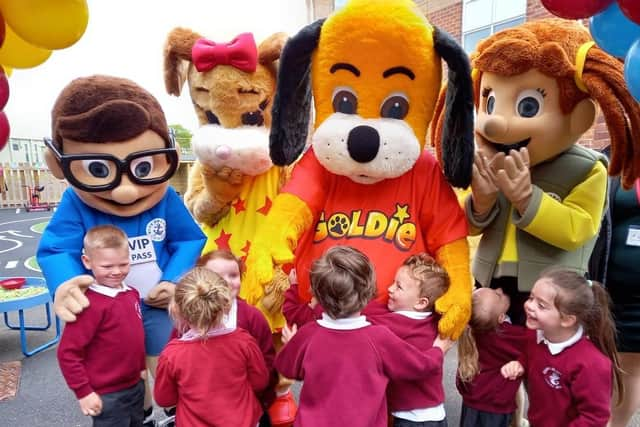 Tom Shaw, Headteacher of Chapel St Leonard's Primary School said: "This project has been a long time in the making. We are absolutely thrilled to be officially opening the new EYFS playground area.
"This brand-new space will give the current Early Years children a safe space to make their own choices, develop communication, social skills, problem-solving and decision making (as well as all the children who will attend the school in later years).
"We would like to especially thank The Garfield Weston Foundation, Tesco, and Coun Graham Williams, for their donations towards the project. We would like to also thank CIT for their continued support, Premier Play Solutions for the design and Phil from Shed Brothers for all his creativity and hard work with the installation.
"I would also like to say a special thank you to Charlotte Dashfield and her team from Blue Anchor Leisure. They have been so supportive over the years and the children have loved meeting the Holiday Park characters today."