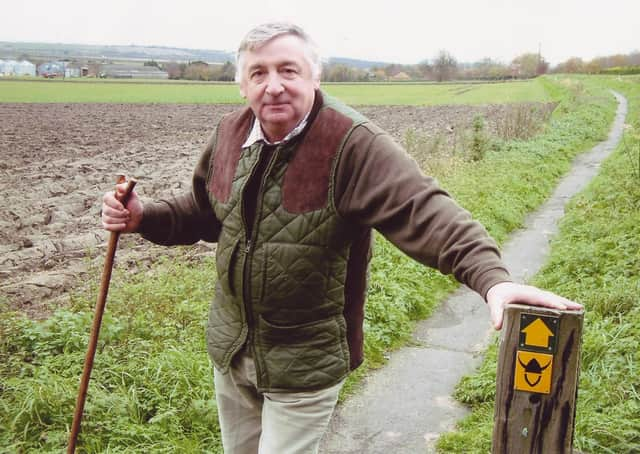 Tributes have been paid to the long-serving West Lindsey and Lincolnshire County Council councillor, who died at Castle Hill Hospital, Cottingham overnight on Thursday, May 28, following a short illness.
MP Sir Edward Leigh described Coun Strange as a 'superb councillor' and 'the very best of Lincolnshire'.
He said: "Lewis was a wonderful man. The very best of Lincolnshire; kind and dedicated.
"As straight as an arrow and always ready with honest, sound advice. A superb councillor. Greatly loved and missed."
In a statement, the Gainsborough Constituency Conservative Association said: "Lewis was a farmer by trade, with the Lincolnshire Wolds always immensely close to his heart, he had an intense desire to represent the needs of rural people at both the Guildhall in Gainsborough and County Hall in Lincoln.
"Through good times and bad times for the party, Lewis consistently would receive the overwhelming support of his ward electorates – never getting less than 60 per cent over his twenty-one-year career in district politics.
"We offer our deepest sympathy to his family at this sad time and particularly to his partner Mo Skelton."
Lincolnshire County Council leader Martin Hill has described Coun Strange, who represented the Market Rasen Wolds ward, as 'highly respected' and 'popular'.
Coun Hill said: "I'm very sorry to hear the sad news about Lewis Strange.
"He was a highly respected and popular councillor on Lincolnshire County and West Lindsey District Councils.
"As a local man with long-standing roots in the county,
"He was a passionate advocate for Lincolnshire and rural life in particular in its many aspects.
"He played an important part in developing the county council in various roles and his gentlemanly charm and common sense will be missed.
"Our thoughts and prayers are with his family at this difficult time."
And Giles McNeill, leader of West Lindsey District Council - where Coun Strange represented the Kelsey Wold ward - has paid tribute to a 'true gentleman'.
He said: "Lewis was one of the first people I got to know when I joined the local party, fifteen years ago.
"Always a regular at party events, perhaps talking about cricket, the Wolds, politics or farming, he was a true gentleman and I know he will be sorely missed."
WLDC chairman, Coun Steve England said: "A true gentleman. His unstinting service to West Lindsey and Lincolnshire, the county he loved, will be sorely missed."
Market Rasen Mayor John Matthews paid tribute to Coun Strange's 'tireless work'.
Coun Matthews said: "Lewis was a very genuine man and was a great servant to the county and our community.
"I jokingly named him 'Mr Pothole' because he worked so hard to get our roads improved, and successfully.
"Without his efforts our roads would be in a hell of a mess.
"He was a true gentleman and will be sadly missed."
Resident and former Rasen Mail correspondent, Peter Thompson, said: "I first got to know Lewis 55 years ago when I started playing hockey for Brigg while still at Brigg Grammar School, though Lewis had been a boarder at Woodhall Spa and Trent College. His family farmed at Somerby.
"When Lewis retired from farming he bought a restaurant in Brigg but soon took to local politics.
"There as the Lincolnshire County Councillor for Hemswell and West Lindsey Councillor for the Kelsey Ward, he showed care and compassion to many of his constituents.
"He was that sort of guy and I shall remember those qualities.
"He contributed so much, quietly and thoughtfully to the local community. I am lucky to have known him as a good friend for so long."
And Gainsborough Constituency Conservative Association chairman, Stuart Kinch said: "Lewis has been a dedicated local councillor for twenty-one years, at both district and county councils.
"He will be greatly missed by all those who knew him. His absence will be keenly felt."
Coun Strange was first elected to West Lindsey District Council in 1999 with a 69 per cent share of the vote and was subsequently re-elected in 2003, 2007, 2011, 2015 and 2019.
Coun Strange served on all the committees of the council at one time or another and most recently on both the Licensing and Regulatory Committees, the Overview and Scrutiny Committee (having previously been deputy chairman of its predecessor – Challenge and Improvement Committee – for a number of years), and the Standards Sub-Committee.
He represented the district on the Lincolnshire Forum for Agriculture and Horticulture, the Wolds Community Transport body, and the Healthwatch Provider Network Meeting.
In 2001, following a boundary review, he was elected as the first Lincolnshire County Councillor for the newly created Ancholme Cliff division, connecting communities from just outside Gainsborough in the west to Middle Rasen in the east, with a 54 per cent share of the vote. He was re-elected in 2005 (55 per cent), 2009 (69 per cent) and 2013 (55 per cent).
In 2017 another boundary review had eliminated the Ancholme Cliff division. And the retirement of Coun Burt Keimach from the Market Rasen Wolds division, provided Lewis the opportunity to move to this adjacent seat, which would be gaining the communities of and around Middle Rasen, from the former Ancholme Cliff division. Lewis secured half the votes in a five-way contest.
Between 2005 and 2013 he served in the cabinet with the portfolio for waste services.
He led the team for the energy-from-waste plant at North Hykeham and the two recycling sites, in Rasen and Gainsborough.
He campaigned successfully, against the spread of large wind turbines in and around Hemswell and the cliff, and the Wolds too, where he was involved with the Lincolnshire Wolds Advisory Committee.
In recent years, he had had roles on the Flood, Drainage and Environmental scrutiny committees at County Hall, and represented the county on the LGA's rural services SPARSE committee.
He is survived by his son, Charles and daughter, Vanessa, married to Daniel Laird, and their two sons.