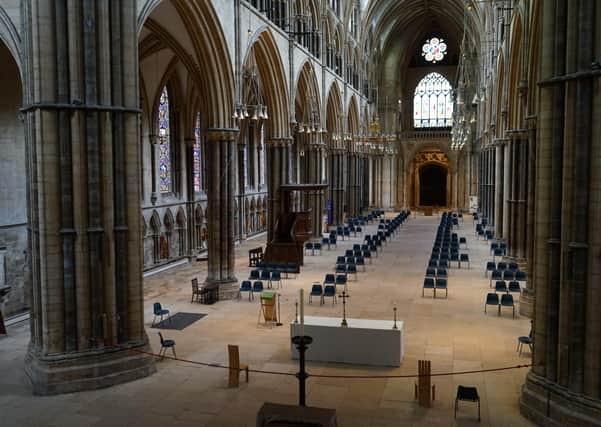 This is the first time a service has been held in the building since the end of March when the government closed places of worship as part of the lockdown measures to prevent the spread of COVID-19.
The Very Rev Christine Wilson, Dean of Lincoln said it was a joy to gather together again in prayer and worship. "This Cathedral was built to the glory of God and stands as a beacon on the hill, witnessing to the love of God for all people for all time.
"Since March, for the first time in its history, it has stood silent, and we have all missed gathering within its sacred space.
"For the last two weeks we have once again been able to pray privately, and it has been extraordinary to witness the Cathedral resonating with prayerfulness and contemplation.
"Now we can once again worship together and there is a true sense of homecoming and healing as we join together to begin to make sense of the unique, strange and difficult times that we are living through.
"It will be simultaneously a uniquely joyful and moving occasion.
"A special liturgy will be used to mark the return to gathered worship and during the service the Paschal Candle, which represents the light of Christ coming into the world, will be lit reminding us that we are all Easter People through our own baptism and the resurrection of Jesus."
The service will take place in the Nave of the Cathedral, to allow as many households as possible to worship, while still meeting social distancing requirements.
There will be a number of other special measures in place to protect all those attending, Cathedral staff and volunteers. These include continuing to use the one-way system that has been in place for private prayer and hand sanitiser for use on arrival and before receiving communion.
The current rules in place do not permit any congregational singing, but there will be music provided by a cantor and organist.
Technology is also helping to play a part in the return to worship at Lincoln Cathedral.
Those attending the service are being encouraged to download the order of service directly to their mobile phone or tablet from the Cathedral's website rather than using printed copies.
There will be no offertory collection during services, but people will be encouraged to take the opportunity to use contactless giving points.
The service will also be streamed live on the Cathedral's Facebook page, as it is recognised that there may still be many people who are not able, or not comfortable attending public spaces.
The Dean added that the need to examine every activity at the Cathedral had speeded up the adoption of new technologies.
"These are all things that we have been considering for some time as we look to make the Cathedral a more accessible and greener institution, so it is wonderful to take this opportunity to try new things, which we hope will soon become integral parts of our worshipping life."
Following Sunday's service, there will be daily services in the Cathedral; Monday to Saturday there will be Morning Prayer at 8am and Evening Prayer at 5.30pm. On Sundays there will be Morning Prayer at 8am, Holy Communion at 9.30am and Evening Prayer at 3.45pm.
It is hoped that over the coming weeks, more services will be added when that can be done so safely.