Third cub joins clan of orphan badgers
There's now a new member of a adoptive badger family, which has been warming the heart of the district.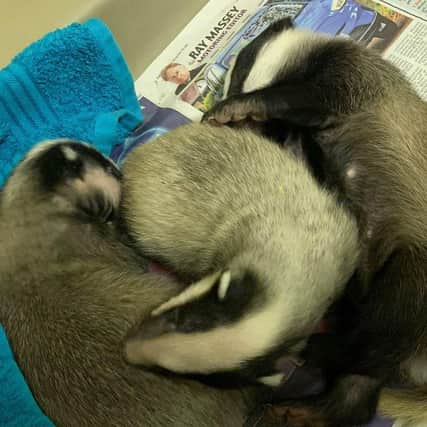 Well, now they have gained another adopted sibling, as Bobby the baby badger joined Bertha and Bartholomew last week and settled in well.
Bobby was taken to the East Winch Wildlife Centre by a member of the public after he was also found orphaned in Cambridgeshire.
Bobby can be seen here enjoying a snooze and cuddle with his new adopted brother and sister.
Evangelos Achilleos, Wildlife Centre Manager, said: "It's lovely to see that our badger cubs are all bonding well and it was such a pleasure to see them all curled up together having a nap!
"They are growing well and are currently weaning. The third badger cub joined us not long ago and has settled in nicely and is growing.
"The public has been so supportive of them with our Amazon wishlist and we are so grateful.
"All orphaned wildlife is always classed as delicate due to the nature of rearing them. We are doing our best and all is going well so far."
The badger cubs will remain together at the centre for a number of months until they are old enough to be released back to the wild, and they will be first introduced to a soft release site.
Badger cubs are typically born from the beginning of February to late April. Cubs stay below ground and emerge from their sett at around eight to ten weeks old.
However, they may continue to be dependent on their mother for some time afterwards.
More information about what to do if you find a badger cub alone is available here, but often the best thing to do will be to leave the cub alone and keep an eye on it, unless it is sick, injured or in immediate danger.
Remember that if you do find a dead badger, please report it to the Badger Trust, as it may be a lactating sow who could have cubs nearby depending on her.
If you would like to support the work of East Winch in their care for the badger family and other animals in their care, you can help by making a donation via their Amazon wish list here.