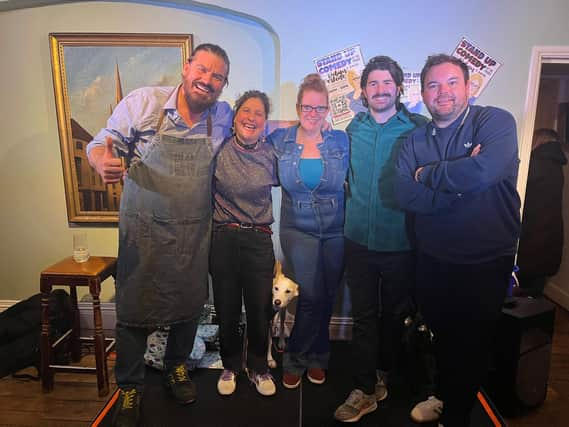 Comedian and opera singer Lloyd Griffith joined comics Paddy Young and Juliet Meyers – and her canine sidekick Homer – last night (Wednesday) to help raise money for the Priory Hotel's Neighbour's Kitchen and Serendipity Initiative – and is set to return in January too.
MCed by US comedienne Robyn Perkins, the event packed out the Priory and the audience were rolling in the aisles laughing as the comics entertained the crowds with some brilliant gags, and good-natured ribbing.
Juliet took to the stage first, with her Portugese rescue dog Homer in tow, as she explained to the audience that he suffers from separation anxiety, and the crowd were in stitches as Homer promptly made himself comfortable in an empty seat in the front row.
MC Robyn enjoyed plenty of audience participation and her teasing of two father-son duos in the crowd brought much mirth to the rambunctous audience.
London-based northern comedian Paddy Young then had the audience in stitches regaling them of his experiences flat-sharing in London and his comparisons between London and Scarborough.
Robyn then introduced Lloyd himself, who was not only in attendance to help raise money, but also to try out some of his new material ahead of his UK tour which kicks off in January.
Lloyd brought the house down with his local jokes at the posh parts of Louth and Grimsby (Tetney), as well as at the expense of a gentleman in the front row from Mablethorpe and a popular estate agent.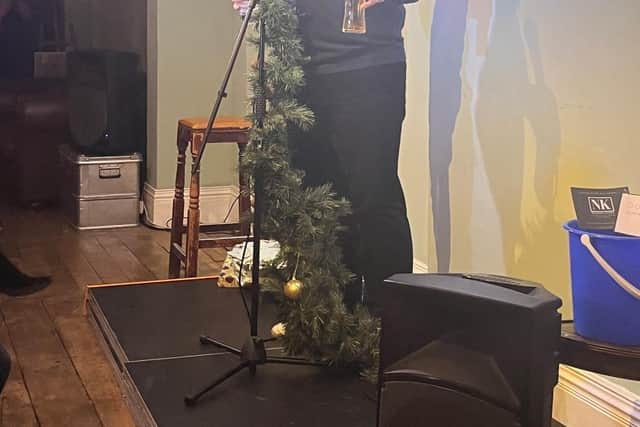 His new material was also hilarious, ranging from his love of candles he discovered during lockdown – with some pretty handy tips to prolonging your candle's life – as well as giving the delighted audience a few songs in his incredible operatic singing voice as he demonstrated his experiences as a barbershop quartet.
Lloyd was full of praise for the Neighbour's Kitchen and Serendipity Initiative, and described it as an "institution that brings the whole community together".
He added after the show: "It was a lovely crowd tonight, it's always different doing material in a local gig because there's many local gags, but they were a really nice, receptive crowd and I can't wait to come back and bring my tour to Grimsby."
Lloyd said he'd heard about the wonderful work the Priory, run by Paul Hugill MBE, does here in Louth after his support act, Matt Bragg, told him about it after performing at one of the Priory's comedy nights:
"I said I'd love to support something like this that's at the heart of the community, it's one of those institutions that bring the whole community together and even if doing this just brings in two more people to support the Priory's work, it's worth it."