Two hundred new carp for historic estate and other Neighbourhood News
An historic estate between Skegness and Boston has replenished its fishery with 200 new carp, as part of a structured restocking programme at the site.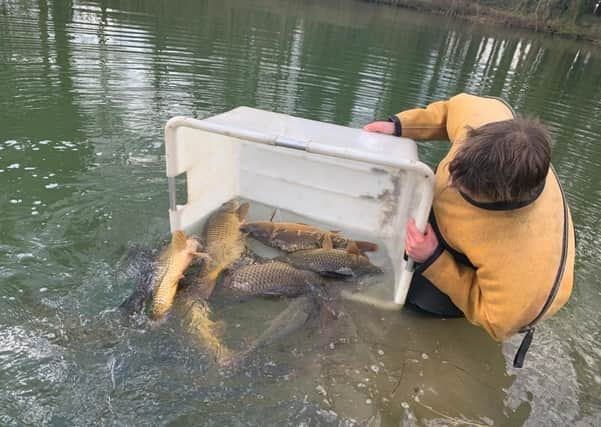 The new arrivals at Revesby Estate are currently residing in special 'growing on' ponds. They will be transferred to the main fishing lake once they hit their target weight.
Revesby Estate fisheries manager Tom Winspear, said: "Our mission is to give our members the perfect fishing experience and our restocking programme allows us to do just that.
"One of the main aims of recreational fishing is to catch the biggest fish possible and, by using our 'growing on' ponds to grow the fish up to size, we are able to stock the main reservoir up with lots of big fish for members to enjoy!"
He added: "We look forward to seeing our 200 new carp grow and hopefully we'll see our members catching some record-breaking fish in the near future!"
** The following was compiled before the Government issued fresh guidance on social distancing. We have added cancelled where it has been confirmed to us the event is no longer going ahead.
The Dance Fit group on Wednesday afternoons offers music and fitness at Burgh Baptist Community Church.
Dance yourself fit to a variety of music from 2-3pm, and step lively for line dancing from 3-4pm. Beginners' tuition is available.
For more information, call 01754 810105.
* Friendship group (CANCELLED)
The Phoenix Group offers support and friendship for those facing loneliness from various circumstances, and prayer is available if desired. The group also has outings to different venues and guest speakers from time to time.
Meetings are held at Burgh Baptist Community Church on Wednesdays from 10.30am to 12pm.
For more information, call 01754 762098.
* Knit and Natter (CANCELLED)
The Knit and Natter group offers the chance to enhance your needlework or share your skills while meeting new people.
The group meets at Burgh Baptist Community Church on Thursdays from 2-4pm.
Enquiries to 01754 811260.
* Parish nursing (CANCELLED)
Burgh Baptist Community Church hosts a coffee morning and parish nurse session every Friday from 10am to 12pm.
Visit parish nurse Adele Pratt for health advice, a blood pressure check, and tips on weight management and wellbeing.
No appointment necessary.
The team is also available for support and prayer if desired.
Scones and hot drinks are available, along with a warm welcome.
Burgh Baptist Community Church now also hosts a parish nurse session on Tuesday from 2-4pm at Burgh Library and Community Hub. No appointments necessary.
* Keep Fit with Fun (CANCELLED)
Keep Fit with Fun sessions are held in the Women's Institute Hall, in Orby Road, every Friday from 11am to 12pm.
It features easy exercise to music from the 60s and 70s.
Enquiries to 07983 709656.
Keep Fit with Fun sessions are held in the village hall every Monday from 10-11am.
Expect easy exercise to 60s and 70s music.
Enquiries to 07983 709656.
The Red Lion Inn, in Raithby, launches monthly quiz nights on Saturday, March 28, at 8.30pm.
The events will take place on the last Saturday of every month at a cost of £1 per player.
The Mark's Tuesday Walking Group meets for its next session at the Tea Rooms at Burgh le Marsh on Tuesday, March 23, at 10am.
Walks last until 11am and are followed by tea and coffee.
* Beach clean (CANCELLED)
It will take place at Gibraltar Point on Saturday, March 21, from 10am to 12pm.
Gloves, bags, and litter-pickers are provided, but anyone who has their own litter-pickers is asked to bring them along.
Comfortable walking shoes are recommended.
The event is free, with no booking required.
** Send your Neighbourhood News to [email protected] for inclusion in a future edition