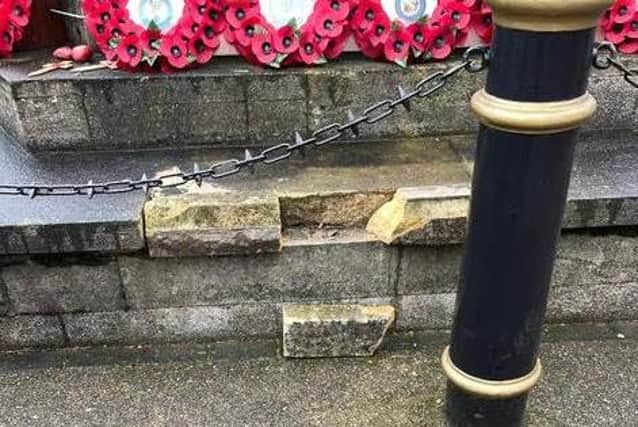 Former Mayor Coun Anthony Brand contacted the Sleaford Standard after finding that damage had been done to the hexagonal stepped stone plinth at the base of the memorial in the town market place.
On discovery of the damage Coun Brand did not believe it was down to vandalism, commenting: "I'm guessing that it was caused by a tow bar with a vehicle reversing."
June 4 this year marks 100 years since the town memorial was unveiled and it has been used each year since by the British Legion and veterans organisations as well as civic leaders to commemorate and remember the fallen in past conflicts.
Coun Brand had appealed to whoever might have caused the damage to come forward so an insurance claim may be put in but, the council's Deputy Clerk, Nicola Marshall has now intervened.
She said: "The Town Council has no evidence that a vehicle has caused this damage.
"There is significant failure of stone on the memorial. Several of the foundation steps have failed and the stonework behind the 1950s plaques has deteriorated. There is a great deal of remedial work needed on the memorial and the council is taking advice from qualified and accredited conservation stonemasons.
"The work required will be complex, costly and it will be some months before it can be carried out."
She said the council will be applying for heritage funds towards the cost of repairs.
Ms Marshall added: "We are aware of the centenary of the dedication of the memorial on June 5, 2022 and will make every effort to ensure the repair works are completed within this landmark year.