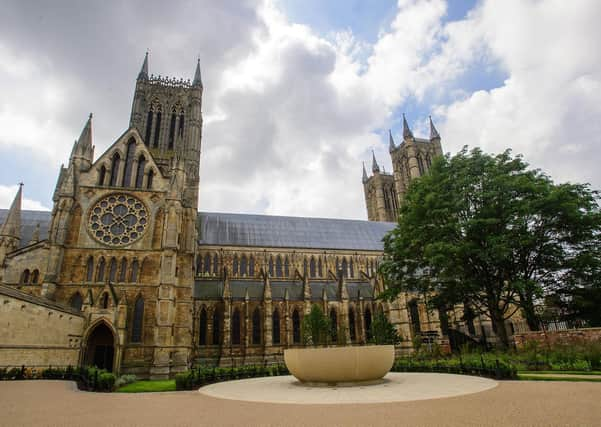 Anyone visiting between the opening day – Monday, May 17 – and Saturday, June 5 will be able to take advantage of a special 'welcome back' admission price of £5 for adults, with children aged 16 and under free.
Everyone is invited to go along and explore this sacred space, discover its rich history and enjoy its unique and peaceful atmosphere.
The cathedral's knowledgeable and enthusiastic team of volunteer guides will be on hand to share information and bring its history to life.
The Very Rev Christine Wilson, Dean of Lincoln, said the cathedral was, at its heart, a place of welcome and hospitality.
She said: "It is a pleasure to welcome tourists and pilgrims back to Lincoln Cathedral and to be able to once again share the engaging history, faith and architecture of this inspiring place.
"Lincoln is a vibrant city and we are fortunate to have so many wonderful independent businesses in such beautiful surroundings.
"The last year has been a difficult time for everyone and as we take the first steps towards safely enjoying the summer months, it is uplifting to see the area come to life again and to see all those businesses opening again and hopefully beginning to thrive once more."
The Very rev Wilson added: "The coming year promises to be an exciting one for the cathedral with the opening of new facilities, and the long-awaited return of events and music.
"Every care has been taken to ensure the wellbeing of every person that visits the cathedral, volunteers, works or worships here, and we're excited to take this first step forwards."
Lincoln Cathedral will be open between 10am and 3.30pm Monday to Saturday, and 11.30am to 3.30pm on Sundays, with last admissions at 3pm.
The daily worshipping life of the cathedral continues, and as well as opening the building for tourist visits, the cathedral will be hosting events in the coming months, with music making a welcome return.
l More details of events, and details of half term and summer activities can be found on the Cathedral website – www.lincoln
cathedral.com.