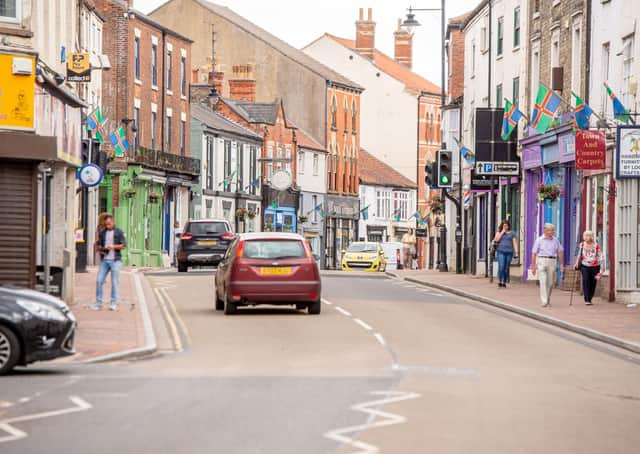 In 2018 Market Rasen Town Council started to develop a three-year strategy, setting out areas for improvement - and West Lindsey District Council put forward £200,000 for the work.
Town Mayor John Matthews says there is now a 'degree of urgency' about making sure the money is spent, adding: "We need to get it together otherwise we will lose the money to Gainsborough."
The cash must be spent on things that will improve the economy - and the council says it wants to get the Market Place and visitor economy 'moving forward' in the next 12 months.
Areas highlighted in the three-year strategy include, the high street, Old Police Station, Festival Hall, green spaces and transport.
And Deputy Mayor Stephen Bunney says WLDC will 'want a say' in how the money is spent.
Coun Bunney said: "The time has come to make sure that's [£200,000] being used.
"West Lindsey [District Council] want it to be used - we need to get on with it so we don't lose it.
"It would certainly be a waste.
Coun Bunney added: "The independent shops did a great job of supporting [residents during lockdown]... they're important at times of emergency and attracting businesses to the economy.
"We've got to do everything we can over the next year to help local businesses if we've going to move things forward.
"I use the term high street meaning all the shops – King Street, Union Street etc.
"It's quite clear we've got some empty shops and some areas which haven't been developed.
"All of these things now need to be reflected in our document.
"The aim would be to get Market Place and the visitor economy moving forward in the next 12 months and this money provides an opportunity.
"It has to be spent on employment opportunities or things that will have a positive effect on the economy - we can't just buy a new roof for Festival Hall.
"We need to… work with the developers in the town... to make sure the old Tradelight site has good quality flats on it.
"The two main areas we do need to look at are the [former] bank –HSBC in Market Place and the old factory site down Mill Street.
"A very run down 1950s/60s factory building, which doesn't look so nice.
"That will mean getting together with the developers.
"It's all very well having shops, we need to make sure they're being used."
Coun June Clark suggested to councillors at the authority's July meeting that shops could be turned into houses or flats.
Responding, Coun Bunney said 'they may well be', and added that the town's Portas Pilot report, by retail guru Mary Portas, highlighted how high streets need to change from 'just being shops to residential, entertainment and night time economy'.
Coun Cathy Sirett told councillors: "Before Covid came in I was exploring about bringing more arts into town – an arts centre or creative centre into the high street.
"Having some kind of cooperative doing it will allow the community to be involved.
"We've a lot of arts and creative people in Rasen, none of whom individually could afford to do anything.
"If we're looking at Rasen as a tourist attraction, that would be a huge focus."
And Coun Bunney agreed, but he said a 'good looking' gallery was essential.
He said: "A good looking gallery will make a lot of difference to the look of the town as people come through.
"We've had evidence that people getting stuck in traffic see a traditional sweet shop and next time park up and go there.
"There's the whole area of Market Square which will come on.
"We've got lots of walks and trails around the town. If they can be developed, as well as the arts.
"The other area is developing the green spaces – more benches at De Aston Field.
"Some people really enjoyed sitting on benches in the Market Place during the early points of Covid [lockdown].
Coun Bunney said the grant could not be used to fund a much-needed new roof for Festival Hall.