County Down, Northern Ireland: where magic meets history and legends come to life in gorgeous outdoor settings
County Down - with its newly endowed UNESCO Global Geopark status - has a lot more to offer than stories. It's a veritable mecca for people who love the outdoors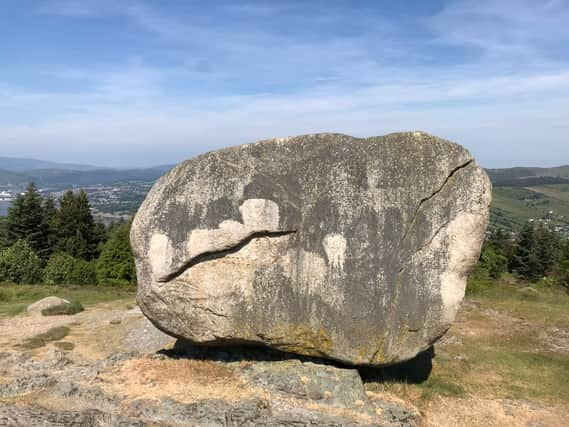 Every country in the world has its own unique mythology of folk stories, which make up an important part of its culture and heritage. But of all the countries I have visited rarely have I found one where it is so thoroughly enmeshed into the public consciousness, into the very landscape and history of a place, as Northern Ireland.
County Down - with its newly endowed UNESCO Global Geopark status - has a lot more to offer than stories. It's a veritable mecca for people who love the outdoors, with every activity you could imagine on offer, and striking scenery and nature always within reach.
It's also a rich hub of the Irish isle's religious, culinary, and cultural history - with some of the friendliest locals you could ever hope to meet. And as I discovered on a recent trip to Northern Ireland's southeastern county, its stories imbue all of those things with a special kind of magic.
Follow in the footsteps of giants in the mountains of Mourne
County Down offers a wealth of ways to experience the outdoors, from the more leisurely paddle-boarding and e-bike tours, to coasteering and blokarting for the adrenaline junkies.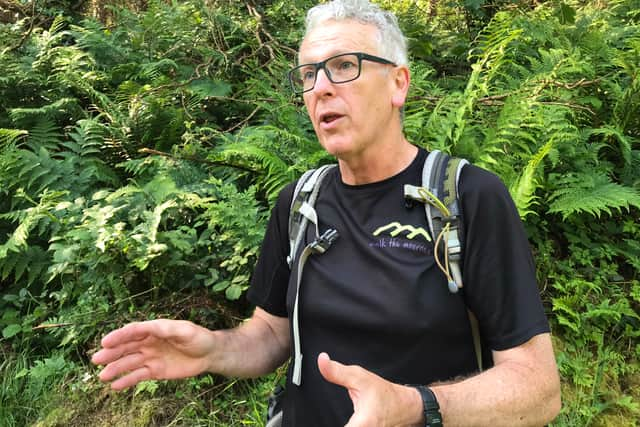 Whichever way you lean, a hike through the mountains of Mourne is a must - but even more essential is securing yourself an excellent local guide like Peter Rafferty of Walk the Mournes. We embarked on the Cloughmore trail - also known as the big stone - usually a 4.5 kilometre walk requiring a moderate level of fitness.
The first thing that strikes you about the wider Kilbroney Forest Park area is the sheer diversity of landscape. One minute you can be following a babbling brook, the next you're surrounded by towering pines. Then you're in open grassland, taking in the striking views across Carlingford Lough, before descending down through Ireland's famed ancient oaks.
Peter's knowledge of the area was incredible, from its history to its biodiversity. We learned how the native red squirrels had reasserted their dominion over the area after the reintroduction of pine martens - skilled at hunting their larger, less-adapted grey cousins - while nibbling on wood sorrel and wild garlic leaves picked fresh from the trackside.
"It's more than just the scenery, there's something else you connect with," Peter said: more than a little of the area's charm came from its stories, woven as seamlessly into the narrative as its physical history.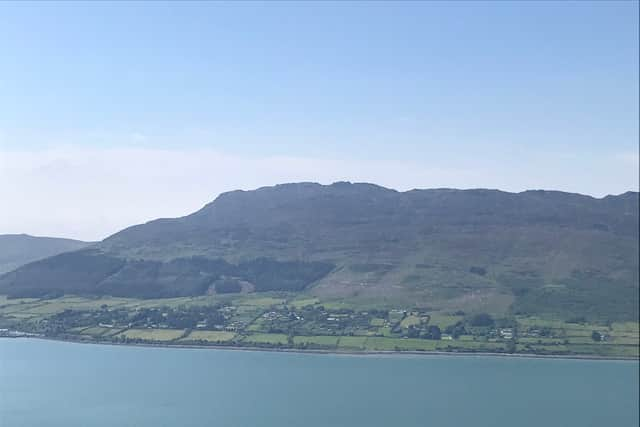 Legend has it, Peter told us, that the "big stone" itself was in fact hurled by the fabled Finn McCool at a rival giant from across the lough. Other boulders scattered across the hillside had missed, but Peter told us that the big one landed right on top of him - pounding him into the ground like a stake - where he remains to this day.
You can see Finn's final resting place yourself from the affectionately-named Kodak corner on your descent, before finishing up with a shot of local spirit poitín at Fiddler's Green where we learned a classic local toast: "may you be half an hour in heaven before the devil knows you're dead."
Docken in, docken out, take the sting of the nettle out
Our guide Peter's expertise in the local flora came in handy in more ways than one, when I managed to brush my hand on a stinging nettle on our way down.
Stinging nettle is usually found growing alongside a plant called dock, known locally as docken. Peter showed me how to crush up the leaf, and rub the sticky sap over the area where you'd come into contact with the irritating plant (which of course, breaks out into a tingling rash near immediately).
He told me that in Northern Ireland, people tend to say "docken in, docken out, take the sting of the nettle out", while they're doing it. 
I'm not sure whether it was the chanting or the sap - but it did sort out the nettle's sting rather quickly.
Ride through Game of Thrones country
If you're both an outdoors-lover and a film buff, an e-bike tour through Tollymore Forest Park - just a 15 minute ride from central Newcastle - has to go on your bucket list. We went with guides - and bikes - from Bike Mourne, who were able to easily adapt the ride for even the most inexperienced of cyclists (myself included).
Adorned with a raft of impressive structures, like its striking castle-inspired folly gates and the hermitage - an impressive stone shelter on a snaking path above the Shimna River, the 600-hectare forest has plenty to see as you soak in your surrounds.
Large parts of the early seasons of Game of Thrones were filmed there, as well as parts of the new Dungeons and Dragons movie, with our guides telling me fans were often able to point out exact parts of the forest where iconic scenes were shot.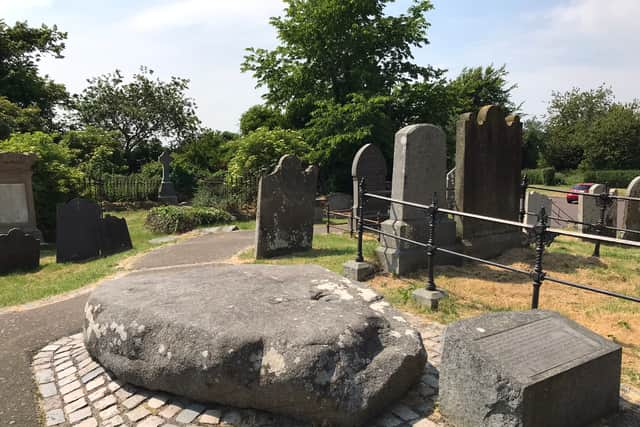 Visit Ireland's cradle of Christianity
No matter what you believe, a visit to Downpatrick to learn more about the wider Irish isle's Christian history is a fascinating insight into the local history and culture.
Here you can visit what is believed to be the burial site of St Patrick, the patron saint of Ireland. While his story - which involves not only bringing Christianity to the Emerald Isle, but also driving all of the snakes from its shores - is relatively well known, he shares his grave with two other important figures; Brigid of Kildare and Colmcille (better known as St Columba).
The lesser-known Brigid was an important figure in her own right. Associated with healing and fertility, legend has it she was a shepherdess who didn't want to get married, and started a convent instead.
She made the first St Brigid's cross from reeds on a dying man's floor, converting him to Christianity in his final moments. Now a national symbol of Ireland, these crosses can be spotted everywhere - from barns to buses - to protect those inside.
There is a special reason behind St Patrick's final resting place. After he died, his body was placed in a cart pulled by two oxen. Wherever they first stopped was where he wanted to be buried, and the hillside spot in Downpatrick was where they stopped, or so the stories go.
The large stone marking the burial site was purportedly placed there because Irish families migrating to America in the late 19th and early 20th centuries - plus a few gamblers - would take a handful of dirt from the top of the grave for luck, eventually causing concern it would damage the site.
Now it's preserved next to a beautiful little church, for all to see, just up the hill from the popular St Patrick Centre, the only permanent installation on the life of a figure so important to Irish history.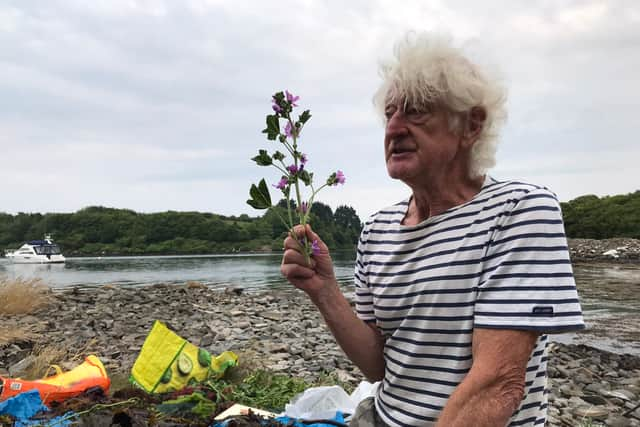 What to eat and drink in County Down
County Down offers more than just some fantastic dining spots, but a raft of ways in which you can turn the local cuisine into an experience.
One of these is learning to make soda bread the traditional way at Tracey's Farmhouse Kitchen, by the shores of Strangford Lough. Breadmaker Tracey Jeffrey expertly demonstrates how to whip up your own dough in minutes from just three ingredients, before you get to cook your four "farls" of soda bread on the griddle yourself - making sure not to skip important steps like "harning" - or standing them on edge to finish off the baking process.
If you're keen to prolong your time in the outdoors, the Strangford Lough Activity Centre offers a unique foraging experience. It starts with kayaking out to Sketrick Island, where local expert David Thompson gave us a taste of Northern Ireland's rich foraging culture - from umami seaweeds like dulse and carrageen, to lady's bedstraw (which can set cheese like rennet), and alexanders, with its potent, liquorice-flavoured seeds.
For a more traditional dining experience, Graphite in Newcastle offered an innovative blend of classic dishes sprinkled with foraged ingredients (and ample vegetarian options), like hummus and roasted cauliflower with mallow-leaf, and a rice pudding espuma with caramelised pineapple and gorse-flower.
Hillyard House Hotel in nearby Castlewellan is a must-visit if you're eager to branch out from Guinness and sample some of the area's other local beverages, from ciders and whiskeys, to my personal favourite - Killowen small batch rhubarb, heather, and hibiscus gin.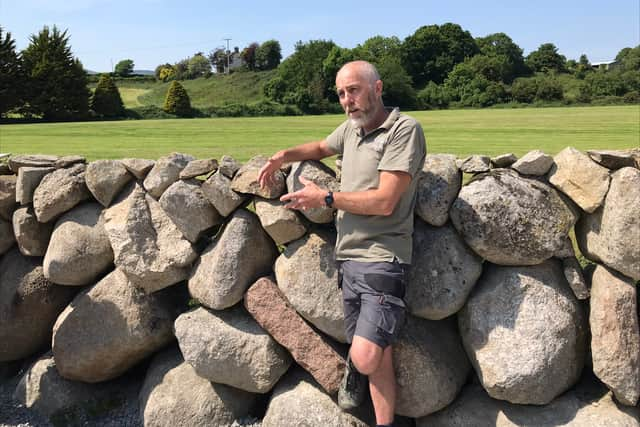 The ancient art of stone wall building
Is there a more iconic sight in rural Ireland than stone walls criss-crossing the countryside?
At The Green, hosts Mark and Jenny Hanna offer an insight into what goes into the 5,000-year-old art of dry stone wall building, as well as the area's long history as one of the UK's stonemasonry capitals.
There's more to it than you'd think. The process has developed its own unique lexicon and you get to try coggling and skimming the skelfs and spalls yourself. Mark says it's a surprisingly ancient and sustainable building method, and the walls develop their own ecosystems of insects and ivy. The gaps between stones not only allow wind through, he said, but let "rabbits and badgers pass through while keeping the cows in the field".
You can experience a little more of Northern Ireland's magic and history on the experience too - learning about why local farmers leave "fairythorn" trees standing in their fields, and sampling boiled cake from a biscuit tin, just like the stonemasons of old.
A lucky few will even get to try manning the digger - picking up and piling large boulders into a stone wall themselves. It's harder than it looks!
Where to stay
I stayed in the recently-renovated Avoca on Newcastle's Central Promenade. With a perfect blend of elegant and rustic decor, rooms come in three sizes - including family suites for people travelling with children - all with scenic ocean or mountain views, starting from £150 per night.
Another option if you're interested in more independent living in the heart of the Kingdom of Mourne is The Green Holiday Cottages in Kilkeel. Starting from £352 for a two-night short stay, these rural cottages are part of a restored and renovated 18th Century corn and flax mill project, with the owners offering some interesting experiences for visitors on the side.