Scientists investigate new Covid Delta Plus variant which 'could be more transmissible'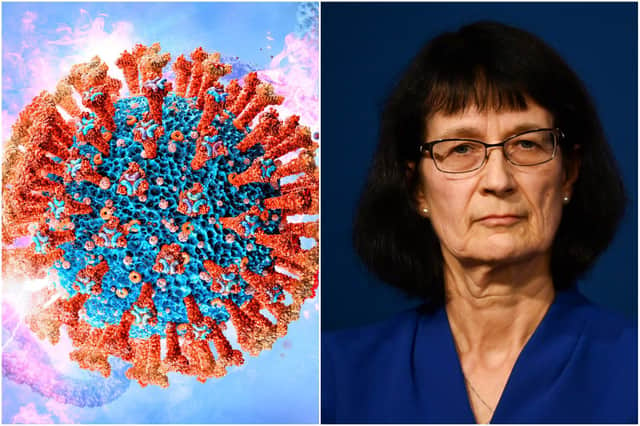 A new Covid mutation 'may be more transmissible', according to experts.
The UK Health Security Agency is investigating a sub-variant of the Delta Covid strain - known by some as 'Delta Plus'.
Scientists have said Delta Plus carries two characteristic mutations in the spike - Y145H and A222V - both of which have been found in other Covid lineages since the start of the pandemic.
'New variants will continue to arise'
It is now a 'Variant Under Investigation' to reflect its possible risk as scientists urge that the pandemic is not over.
Dr Jenny Harries, Chief Executive of the UK Health Security Agency, said: "Viruses mutate often and at random, and it is not unexpected that new variants will continue to arise as the pandemic goes on, particularly while the case rate remains high.
"It is testament to the diligence and scientific expertise of my colleagues at UKHSA, and the genomic sequencing capacity developed through the pandemic, that this new variant has been identified and analysed so quickly.
"However, it should serve as objective evidence that this pandemic is not over."
15,120 cases of new Delta variant
The Delta Plus variant - known as AY.4.2 by scientists - was first detected in England in July.
It has become increasingly common in the UK in recent months
As of 20 October, there were 15,120 cases of Delta Plus confirmed across the country.
There is some early evidence that it may have an increased growth rate in the UK compared to Delta.
It comes as the original Delta variant still remains overwhelmingly dominant in the UK, making up approximately 99.8% of all cases.
Scientists are confident that existing vaccines should still work to protect the population against Delta Plus.
'Continue to exercise caution'
Now scientists say more evidence is needed to know whether the growth rate is due to changes in the virus' behaviour or to epidemiological conditions.
Dr Harries added: "The public health advice is the same for all current variants.
"Get vaccinated and, for those eligible, come forward for your third or booster dose as appropriate as soon as you are called.
"Continue to exercise caution. Wear a mask in crowded spaces and, when meeting people indoors, open windows and doors to ventilate the room. If you have symptoms take a PCR test and isolate at home until you receive a negative result."
Cases to reach 100,000 a day
Health Secretary Sajid Javid said this week that new cases could reach 100,000 a day as an estimated 5.3 million booster doses of the Covid vaccine have been delivered in the UK.
Plan B includes working-from-home guidance and the mandatory use of face masks.
Downing Street has insisted there was still spare capacity in the NHS and that Plan B would only be activated if it came under "significant pressure".
This article originally appeared on NationalWorld.com