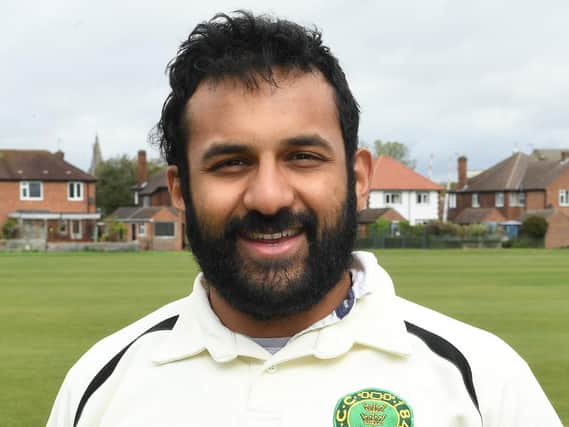 Captain Jonny Cheer praised an all-round team performance that kept Boston CC's play-off hopes alive.
The Mayflower men hosted Bourne in their final South Section game of the Lincolnshire ECB Premier League, securing an eight-wicket success as they looked to bounce back after a narrow defeat against a strong Grantham side.
"It was a very good performance," Cheer said.
"We bowled well, fielded well and then went and backed that up with the bat in the second half of the game."
Boston made one change to the side as Lewis Skinner replaced Tim Bell in the Boston XI.
The coin came down in favour of Bourne captain Courtney Kruger, and he opted to bat first.
Temple was dismissed early on for one as Scott Elleray found the leading edge of his bat and the catch was taken at point by Tom Baxter.
Elleray then found the edge of Evison's bat and a smart catch by Tom Poole behind the stumps saw Bourne fall to 20-2.
With debutant Skinner persisting from the other end his luck was about to change as he dismissed Berry and Kruger, picking up his first First XI wickets.
"Both Scotty and Skinner bowled very well up top," said Cheer.
"It was great to see Lewis pick up those wickets. He varied his pace and made it really difficult for the batsmen to score."
The introduction of Paul Deans and Baxter into the attack saw the dismissals of Morgan and Dixon and Bourne were now struggling at 62-6.
A 23-run partnership followed for Bourne between Stroud and Bandaranaike before Martin Hodgson dismissed Stroud after another fantastic catch by Poole behind the stumps.
A 57-run partnership for the eighth wicket between Bandaranaike and Kidd frustrated Boston and brought Bourne back into the game.
From 142-7, Bourne ended their innings 143 all out in the 38th over. Skinner rounded off his debut with an impressive catch at long-on and a run-out that ended the innings.
"As a unit, we bowled very well. We've played five games this season and we've done well with the ball every week," Cheer added.
"We've put the ball in the right area and looked to make run-scoring really difficult for the opposition.
"Taking the pace off the ball was been pivotal. We have three slow bowlers and our two seamers bowled lots of slower balls."
After the interval, Boston set about chasing down 143, looking to return to winning ways.
Kidd removed Tim Norris for one which brought captain Cheer to the crease.
It looked to be Bourne's day as Cheer top-edged a pull shot up in the air and straight towards fine leg. Fortunately for Cheer, and Boston, the ball was dropped.
The partnership of Poole and Cheer pushed the scoreboard along with minimal risk – it wasn't until Boston were 40-1 before a rash shot was played.
Unfortunately, that shot was when Poole found the hands of mid-off to be dismissed for 24.
Mahir Yousuff joined Cheer, who at the time was 12 not out. While Cheer continued to play his normal game, the attacking instincts of Yousuff moved the scoreboard along and put Boston in the box seat.
With rain looking likely, it caused a few uncertain conversations as everyone frantically worked out the scores required each over if we were to come off for rain.
With Boston needing 32 to win, the rain came. However, it didn't last long and Cheer and Yousuff returned to the crease to ease Boston to victory in the 31st over.
Cheer ended the game 53 not out and Yousuff on 57 not out from only 58 balls.
It was the return to victory that Boston were looking for and leaves them still in contention for the play offs.
On Saturday Boston host Louth in am inter-section, game looking to pick up another victory.
Boston will be without Baxter and Luke Gilding but will be waiting to see if Tim Bell can return after injury kept him out of the game against Bourne.
The Second XI made the trip to take on Spalding on Saturday and after an impressive bowling performance dismissed the hosts for 132.
Wils Barker was the pick of the bowlers, picking up six of the Spalding wickets.
Damian Lawson, returning to bowling action after a serious injury, picked up two wickets in two balls and was unlucky not to pick up a hat-trick.
In reply, Boston were soon in trouble. Boston were 5-3 and heading towards defeat.
Jack Tetther performed well with the bat and gave Boston's total some respectability as he made a determined 48, before Boston were bowled out for 94.
Next week, Boston make the short trip to local rivals Freiston LL, looking to return to winning ways.