Landfill tax grant puts spotlight on Sleaford Tennis Club
Work had begun on installing new, more environmentally-friendly LED floodlights at Sleaford Tennis Club's courts on Boston Road Recreation Ground.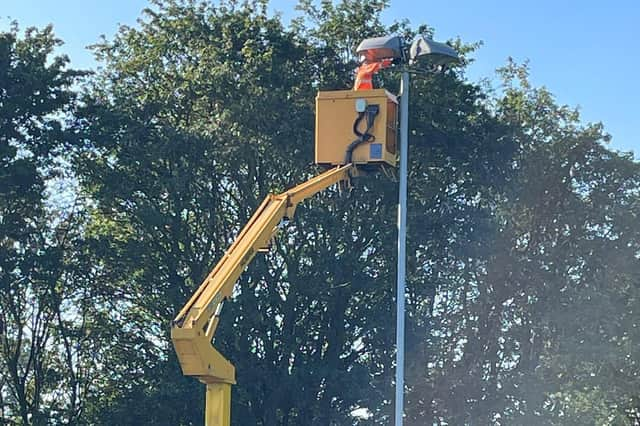 The Sleaford Tennis Club LED project is a step closer now that the new centre floodlight stanchion is in place at the site and replacement of the LED heads takes place this week.The project, which is being funded by a £28,031 grant from the FCC Communities Foundation, will provide replacement LED floodlights, once it is open later this month.Stuart Clegg and Julie Leighton of Sleaford Tennis Club are excited that the project is starting to take shape. Julie said: "It's great to see our vision for this vital community facility moving closer to reality. We are extremely grateful for the funding FCC Communities Foundation has given us and we're looking forward to opening to the public."FCC Communities Foundation is a not-for-profit business that awards grants for community projects through the Landfill Communities Fund.Cheryl Raynor, Grant Manager at FCC Communities Foundation said: "We are delighted that work has now begun on site, the club have worked hard to reach this stage after several setbacks and have remained dedicated and positive throughout.
"We look forward to work being completed shortly to allow play to continue into the darker nights."For more information about FCC Communities Foundation funding visit http://www.fcccommunitiesfoundation.org.ukProjects are funded that benefit people living within 10 miles of a FCC Environment landfill site.FCC Environment is a UK waste and resource management company. It employs 2,400 people and operates more than 200 facilities across England, Scotland and Wales. FCC Environment donates the landfill tax credits that are generated by its operations to FCC Communities Foundation, in order to add value to the environmental and social infrastructure of the communities around landfill sites.Landfill Tax is charged on each tonne of waste sent to landfill instead of being reused or recycled.Landfill operators are able to redirect a small proportion of landfill tax liability to support a wide range of community and environmental projects in the vicinity of landfill sites through the Landfill Communities Fund (LCF) and Scottish Landfill Communities Fund (SLCF).