Forrest and Wintec team leading sidecar championship
Jordan Forrest has reason to celebrate as his Wintec Racing recorded a brace of wins at Mallory Park to snatch the championship lead in the FSRA Wintec F1 Sidecar Pre-Injection series.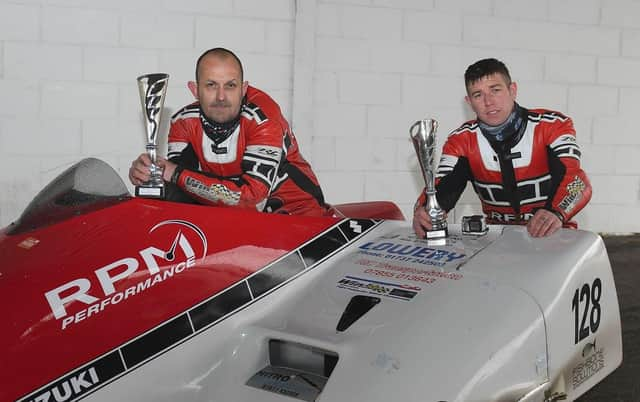 Forrest and driver Simon Horton were greeted with heavy rain and a high wind at the Leicestershire circuit last week.
But despite the cold conditions they qualified well in fifth place on the mixed grid of outfits and were fastest in their class.
The rain continued throughout the day and they lined up on row three for the start of race one in treacherous conditions.
They completed the first lap in fifth place overall - first in class.
But soon they made their way forward to third which they held until the final lap.
Finally they were overhauled by the Kirby/Kirby duo, who were racing in the EMRA club section of the race.
But they took a decisive win in their class with a considerable gap over closest rivals Tibbles and Greenwood, who were second.
The weather deteriorated prior to the start of the second event leaving officials no option but to cut the laps down from 10 to five.
This time Horton and Forrest, from Misterton, got away to a good start and led the field around the first lap before being overtaken by multi TT winner Rob Fisher who was racing in the F2 class.
They held second place overall and first in class until the final lap when, once again, Kirby and Kirby made their pass stick on the run to the chequered flag.
This left Horton and Forrest to bring the Wintec Racing Suzuki home in third place overall, enough to secure their second win of the day in the Pre-injection class.
Forrest said: "The weather wasn't very kind to us and track conditions were not great and deteriorated as the day went on which meant the second race was reduced to half distance.
"But we soldiered on and got the results we wanted.
"Thanks to Simon for a great but challenging drive and to all family, friends and sponsors who help us massively."
The next round is at Anglesey in Wales at the end of June.
Wintec Racing will be seeking some strong results to boost their championship lead.