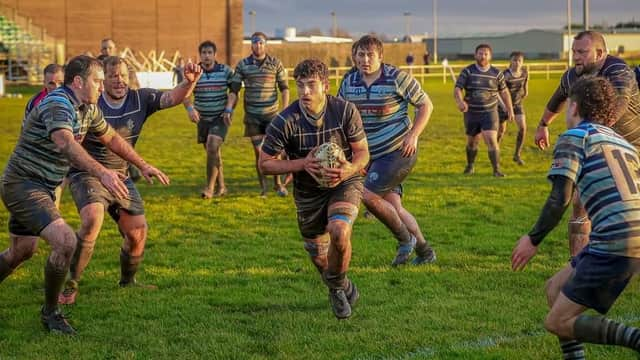 The result sees the side retain third place and keep the pressure on Mansfield and Kesteven, who lie in second and first place respectively separated by a point.
On a day when the weather went from poor to monsoon conditions, Boston did attempt and indeed their intent was to play open attacking rugby.
Playing against the wind Matt Bray opened the scoring with penalty to take the lead 3 -0, before Mason Coulam from a quickly taken Josh Cook, tap penalty, crossed the try line to move 8-0 ahead after twenty five minutes.
With Bakewell, taking the game to Boston, only resolute defence prevented Bakewell from scoring. After repelling their attacks, the home side struck back recording two tries through their wingers.
First Jose Araujo, from slick passing from Bishop and Deane, converted by Bray and then Danny Wilson racing into the corner.
The fourth try by Lewis Eldin, came after a surging run, to take the home side in at the interval 27 -0.
Despite the advantage of the wind the second half proved a disjointed affair, with the weather deteriorating and the coaches utilising the bench and changing player positions. Two highlights would be scrum half James Bray and back row Koebi.
Austin's ,first tries for the first team. The last two tries were scored by second row Mathew Deane and Jose Araujo.