Gallery unveils display and study of famous artist
The Carre Gallery in Sleaford will reopen on May 1 with new exhibitions and displays.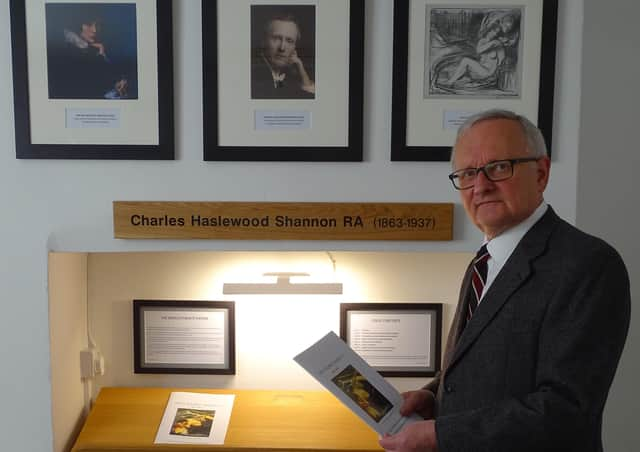 Carre Gallery director Christopher Hodgson and the Charles Shannon display. EMN-210426-172855001
An important new feature of the venue on Carre Street will be a permanent display relating to Charles Haslewood Shannon (1863-1937), perhaps Sleaford's most famous artist.
Charles Shannon was the son of Rev Frederick William Shannon who was Rector of Quarrington.
Examples of his paintings, lithographs and engravings have been displayed in the Usher Gallery in Lincoln, but he would largely have been forgotten in his home town if not for research of the late local historian Christopher Micklethwaite.
Mr Micklethwaite spent over 20 years collecting prints and ephemera relating to Charles Shannon and lecturing on his work. Shannon was famous as an artist, illustrator and publisher.
Gallery director Christopher Hodgson explains: "He was an important member of the Edwardian art scene with an eclectic group of friends including Whistler, Ricketts, Kathleen Scott (wife of Scott of the Antarctic), Oscar Wilde, Yeats and other artists of the period.
"Whilst his work fell out of favour during the 20th century, scholars are now reassessing Shannon's role in the story of English art."
His work is currently exhibited in leading UK, US and European galleries.
Mr Micklethwaite's family have donated his records to the gallery for study by visitors.
Mr Hodgson added: "Our volunteers have managed to collate over 2,000 prints and documents into eight accessible folios which can be studied here. We have also produced a booklet containing contemporary biographical material.
"We still have several hundred pages of Christopher Micklethwaite's correspondence and notes to study and which will be reviewed later in the year."
Carre Gallery is a charity staffed by volunteers to promote Lincolnshire art. entry is free and subject to current coronavirus restrictions.