Chancellor Rishi Sunak today unveiled measures which would see businesses have access to backdated grants in Tier 2 areas, with more help to pay wages and the self-employed too.
But leaders in West Yorkshire said "it does not go far enough" and others claimed it would be too late for many in areas such as Bradford, Kirklees, and Calderdale who had been under measures since the start of August.
Speaking in Downing Street this evening, the Prime Minister said he was not "in a war with local leaders" after talks broke down with Greater Manchester mayor Andy Burnham, resulting in the Government stepping in to impose Tier 3 restrictions without agreement.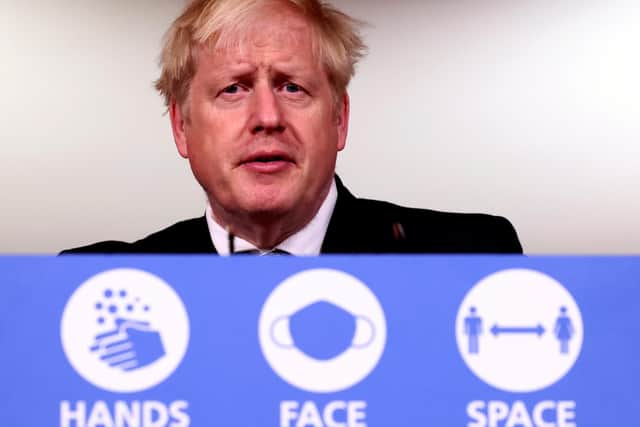 Mr Johnson said: "The issue is really one of basic fairness between various parts of the country that are having to experience regional restrictions, that's what we were trying to achieve in the last 10 days."
"What we are doing now is bringing forward measures that are designed to help businesses that can't trade as they normally would and who are experiencing a fall in income.
"And we are doing it across the whole country, it's backdated to August."
While Mr Sunak added: "This is simply about fairness, it's about treating people the same wherever they live or whatever their situation."
Mr Johnson said: "The negotiations between regional leaders, between metro mayors, was all about fairness, that's what that discussion was about, it was about making sure that everybody got the same package.
"What we're trying to do now is address a national issue which is that obviously since the virus started to come up again, there's been much more concern, particularly among the business community, about people's ability to protect jobs and livelihoods because of the effects of the virus."
But Northern leaders said they had been expressing these concerns for months.
A statement from the leaders of West Yorkshire's councils said: "Many businesses in Bradford, Calderdale and Kirklees have been operating under these restrictions for some months, so whilst they will welcome the ability to apply for business grants retrospectively from the beginning of August, it is disappointing that only now this need has been recognised by the Government."
While Anna Round, Senior Research Fellow at think tank IPPR North said: "The Chancellor's announcement of grants for businesses affected by Tier 2 regulations, and a new Tier 2 support scheme, are an improvement on existing arrangements, but too many - from the newly self-employed to businesses in the hospitality supply chain- will continue to fall through the cracks. And for many in the North this will be too late.
"While the Chancellor is right to allow businesses to apply retrospectively for support, some firms in places like West Yorkshire – which has been under Tier 2 restrictions for months- will have ceased trading before today's announcement, making people unemployed and to left to navigate the UK benefit system, which is one of the least generous in the world, as we approach the Covid-19 winter.
"In a region where our resilience has already been eroded by a decade of austerity, where we're at the sharp end of some of the biggest regional divides in the world, we need more ambition, and crucially, for Government to do better on working with local leaders to ensure our recovery".
Earlier Greater Manchester's Mr Burnham said he was left "open-mouthed" by the news of expected new support after London and Birmingham went into Tier 2 while parts of the north had been in the same position for the past three months.
Speaking to a Business, Energy and Industrial Strategy Committee in Parliament, he said: "I honestly was just open-mouthed really when I read the headlines last night, that there was going to be a support package, it was billed as being for London and Birmingham.
"And it was just a case of 'Hello! We've been under these restrictions for three months'.
"Bolton had their pubs closed for three weeks with nothing, absolutely nothing.
"Why do we see London's issues, much more than we see Liverpool's issues, Greater Manchester's issues?
"That, I think, is a really troubling question that this committee needs to talk about as part of this.
"In some ways it makes me ask what was this last week all about then? The slightly brutal nature of the process that we were all in.
"On Tuesday in my final discussion with the Prime Minister I was making the clear pitch to him that we had been in three months of restrictions and therefore we were in a different position to the Liverpool City Region and different to Lancashire.
"That factor did not weigh at all in the final analysis. They basically said, 'No you are going to get the same as the population based figure for Lancashire and Liverpool'.
"I just think there are major questions for the government to answer here as to how it is treating places."