Will Bomber be named new Horse of a Lifetime?
Just days after starring in Horncastle's Remembrance Day parade, this handsome Shire horse could be grabbing national attention as hewill find out if he has been named Horse of a Lifetime.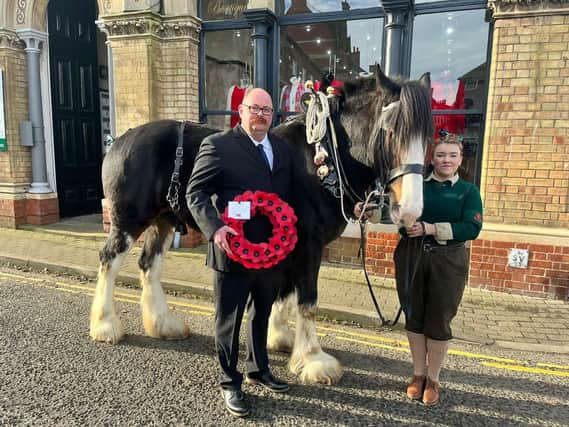 The award recognises the horses who enrich the lives of their owners, riders or communities, and is ultimately chosen by readers of Horse & Hound, who vote for their favourite horse or pony from a shortlist.
If Bomber were to take home the Horse of a Lifetime award, he will be suceeding Emma, the late Queen Elizabeth II's final riding pony.
Bomber the Shire horse lives in Horncastle with his owners Eve Miller and Jon Davison, and attends events all over the country to promote the importance of preserving shires like him.
He first came to live with Eve and Jon in October 2015 on their farm as a six-month-old foal, fulfilling a life-long ambition of Jon's as he had worked with shires during a gap year on the Isle of Sark, where shire horses are still frequently used instead of machinery (read our feature on Bomber here).
Bomber is now a much-loved member of the family and fits in well with the couple's other horses – Billy and Snickett, the Shetland pony – and at eight years old, now stands at 18.1 hands high – around 2metres tall – and weighs a whopping 900kg, around the same as an adult giraffe!
Eve and Jon are keen 1940s re-enactors in their spare time, and they have been seen at events across the country, including the recent Great Central Railway in Leicestershire's 1940s Wartime Weekend and the 40s Weekend Melton Mowbray with Bomber to help promote the endangered breed.
To ensure Bomber was not frightened by the sights and sounds of vintage events, the couple played sounds of gunfire, vintage tractors, and similar noises to him since he was a youngster.
"I don't know any other horse that would stand next to a tank being fired off – he takes it all in his stride," said Eve, "He's so placid and really knows his job at these events.
"If a child comes over, he'll put his head down and let them stroke him. He really makes an impact on the people he meets."
"Every farm had heavy horses because machine parts and fuel were in such short supply," says Eve. "We like to be as educational as we can, promoting the shire horse in the process."
Eve and Jon will attend the Horse & Hound Awards on Wednesday (November 22) to learn if Bomber will be Agria Horse of a Lifetime.
"We'd be over the moon to win but even to be shortlisted is an achievement," added Eve.
Horse and pet insurer Agria's CEO Vicki Wentworth added: "We know better than anyone how special non-competitive horses and ponies can be in the lives of their owners and riders, which is why we offer lifelong insurance cover.
"Bomber has really caught our attention with his character and work and we wish him the best of luck on awards night!"