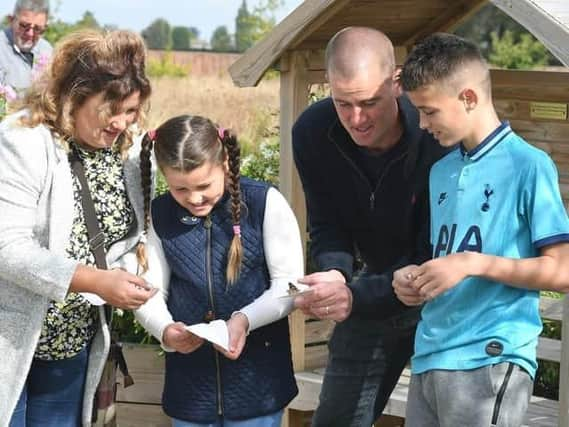 Nick Bishop is in training for the Manchester Marathon on April 16 to raise money for The Butterfly Hospice.
Deciding to sign up for the gruelling 26.2 mile race was made in 'a moment of madness', he says.
Explaining his motivation, the 39 year-old said: "A few years ago, my mum and auntie passed away within a few months of each other, and both spent their final few weeks receiving end of life care in the Butterfly Hospice.
"Having lived in Boston all of my life, and now raising my family here, I appreciate how important such a facility is."
Nick's aunt Jane Guthrie died after a battle with cancer at the hospice in August 2019. Just a few months later, in April 2020, Nick's mum (Jane's sister) Jenny Bishop passed away from Inflammatory Breast Cancer – a rare and aggressive form of cancer.
The dad of two says he has chosen to support the hospice as both his mum and aunt were given "remarkable" and extremely kind" end-of-life support there.
This will be my first ever marathon," he explained. "My only previous experience of a race was in my secondary school days at the annual cross-country event.
"My family think I'm mad! My wife Gemma and daughter Hollie, 12, have been very kindly making sure I eat as healthily as possible throughout my training, and have been great motivators especially during the cold, dark winter months when I've often needed a stern 'kick up the backside' to get out and complete some running!"
Nick has been preparing for the marathon since deciding to enter on the 11th November 11 last year, which would have been his late parents' 50th wedding anniversary.
"I have been inspired by our son Freddie's recent efforts in qualifying for the National Schools Cross Country Championships," he said. "And he has been certainly putting me through my paces as my 'running partner' and 'personal trainer'."
The Butterfly Hospice, based in Rowan Way, provides palliative care and holistic support to patients and their families, 24 hours a day, seven days a week.
A spokesperson for the charity said: "When you or someone you care about is seriously ill, you want to know that they are getting the best possible care and treatment, and so do we. We enrich people's quality of life by relieving symptoms such as pain, breathlessness, and other distressing problems through the skills of our experienced and caring teams."
Nick and his family recently took part in a fundraiser for the hospice by running 5k a day for 10 consecutive days, raising over £1,000.
"I feel extremely privileged to be able to support the amazing Butterfly Hospice," Nick added. "The humility, care, friendship and compassion they showed towards us all during an extremely difficult period was nothing short of remarkable.
"To this day, their decision to allow mum to stay in the facility, as the last remaining patient whilst the first covid pandemic hit back in March 2020, was an extremely kind and thoughtful act.