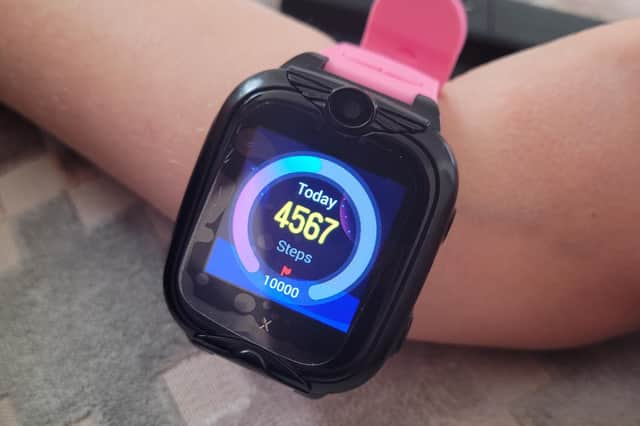 The watch itself needs a PayAsYouGo SIM, but with many deals there at the moment we managed to sign up to unlimited calls, text and a small amount of internet for just £6 a month.
The XGO2 comes with GPS tracking capabilities and is GDR compliant, making it perfect for children aged five to 12.
The watch might not look the sleekest, but with kids running around and knocking about, the solid plastic build that holds the screen didn't make me feel like it was going to break easily. The watch also comes with a rubbery strap in a choice of four bright colours.
The smartwatch has a 1.4-inch display and the 240x240 resolution is good when viewing steps. It doesn't make the photos you take look brilliant, but the front-mounted camera is only 0.3MP so it might be more the camera rather than the screen.
The app that comes alongside the watch makes it easy to control who your child can contact. There is space for 50 contacts, but we only needed space for about 10 and these people can be called directly from the watch. Your child can also send and receive receive texts, voice messages and emojis but only to others who have the app. They can also type the messages instead of sending a choice of pre-approved messages which gives them a little more freedom.
There is also an option to set-up 'security zones' around your home and school which will then send you an alert on your phone if your child leaves the area. There is also an option for children to press the 'SOS' button to tell their saved emergency contacts where they are in trouble.
Another feature I really liked was the 'school mode' which means the smartwatch can only be used as a watch and won't allow calls etc., which is good for helping kids focus in class.
Features on the watch include a stopwatch, calendar, calculator and recorder. There is a 'campaign' you can join which allows the wearer to earn 'Xcoins' by moving around and counting their steps. You can then spend your coins on the 'campaign game'.
The option was a pinball machine game to promote the new Tom and Jerry Movie. You can't spend your coins from the watch - you'll need the smartphone with the app for this.
Like all our own smartwatches, the battery isn't great. I would say it would last maybe two days, but on weekends when our little tester was playing with it and checking her steps more than normal we had to charge it every day.
If calls and safety are your priority this is a great option. I also think for a first smartwatch this gives kids the freedom to call their friends and family without it getting in the way of their school hours.
TheXGO2 runs on Android 4.4
It has 512MB of RAM and 4GB of storage and comes with a 0.3MP camera. The smartwatch has a 700mAh battery life and works with Wi-Fi as well as 4G, 3G, and 2G connectivity.