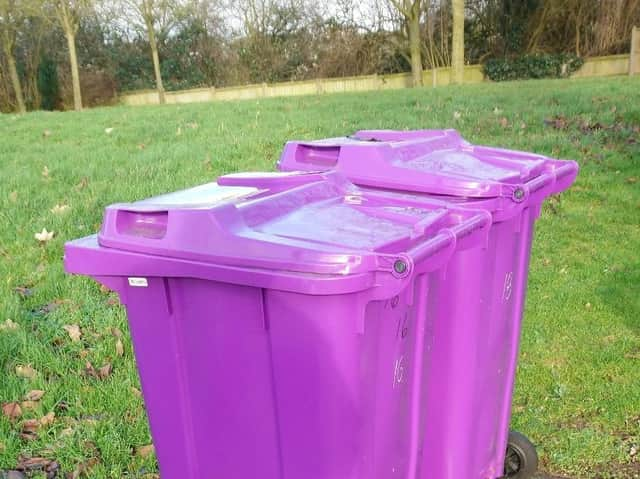 The scheme, which sees an extra bin used for recycling paper and card only, was rolled out to homes in Boston town, Fenside, and Wyberton last September.
The trial has seen 132.5 tonnes of paper and card collected up until May this year.
Palm Paper, the company that processes the contents of the purple bins, reports that the quality has been over 98% – including during the COVID-19 pandemic.
And the council says a knock-on benefit of the trial is that contamination of the normal recycling (blue) bins has fallen to a record low.
The trial is due to last 12 months, and the council says it is continuing to gather information for review to help make a decision on the next steps.
Residents who took part in the scheme say it has helped them understand how best to dispose of their waste, with plenty of help available from borough council staff.
Karen Storr, from Ingelow Avenue in Boston, said: "I like being in this paper and card trial. It's a great idea, and if there's anything we can do to help the environment, help save the planet and reduce the carbon footprint, I'm up for it.
"I was shocked when I found out our area was part of the trial, but why not. I think we all knew the trial as a whole was going to be a challenge, maybe more for some than others.
"The council workers have been great keeping us informed of what was going to happen and how it was going to work. There has been lots of engagement and there is always someone out with the crews if anyone has any questions.
"I've always been keen on recycling and am happy to help my friends and neighbours when they ask me what's what. It's called the community working together, that's what everyone should be doing."
Debbie Humphreys, from Wyberton, agreed. "It has taken me a while to figure out what goes in each bin, especially the blue bin, but I have got there now I think! There seemed to be lots I didn't know.
"The information in the leaflet we got when the trials started was really useful and the website and social media posts are also very helpful, especially as they go into more detail about why certain items can or can't be recycled.
"Until the engagement officers explained to me the process I didn't really get it all, and I thought waste from the green bin still went to landfill, but I was happily surprised when they told me is doesn't and goes to be turned into energy to power homes.
"Most people I've spoken to in our area are happy to be involved in this trial and we hope it continues and gets rolled out over the whole of the district."