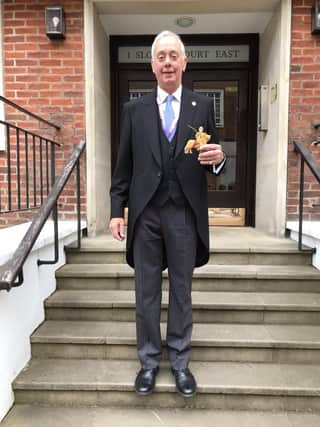 The title of King or Queen's Champion has been held by the Dymoke family since the Middle Ages, and Mr Dymoke's claim to undertake a historic role in the Coronation, which was held by his father before him, was upheld by the Coronation Claims Office.
In days gone by, the King's Champion would previously ride on horseback into the Coronation Banquet and challenge any who doubted the right of The King or Queen to the throne – but as a Coronation Banquet has not been held since King George IV's Coronation in 1821, the Champion has instead undertaken a different role since, usually bearing a flag or Standard.
And that is exactly what Francis was seen doing during Saturday's Coronation by millions of people around the world, and experience he said was a "great privilege":
"It was wonderful, and I'm so lucky to be asked," he said, "Especially as it was a slimmed down Coronation which was two hours instead of three so not as many people took part, so I feel so privileged to be asked."
Francis travelled down to London with his wife Gail on Wednesday to undertake two days of rehearsals ahead of the Coronation – and it was discovered during the first rehearsal that the Royal Standard was taller than the Abbey's door so care had to be taken to make sure the flag didn't bump into the doorway.
Francis said that he didn't feel too nervous as the Earl Marshall was very relaxed himself, and the calmness of his demeanour spread throughout those involved.
Once his big moment came and he had walked down the aisle of Westminster Abbey, Francis was seated right behind Queen Camilla's children, and directly opposite the Prince and Princess of Wales and their children – Prince George, Princess Charlotte, and Prince Louis.
"It was amazing to see the children singing the National Anthem with gusto," he said, "And the moment where the King promised to serve was a wonderful moment."
As well as carrying the Royal Standard as part of the procession in the Abbey, Francis was also flying the flag for Horncastle as he could be seen wearing the Horncastle coronation badge designed by Horncastle's Queen Elizabeth Grammar School student Matilda Bush.