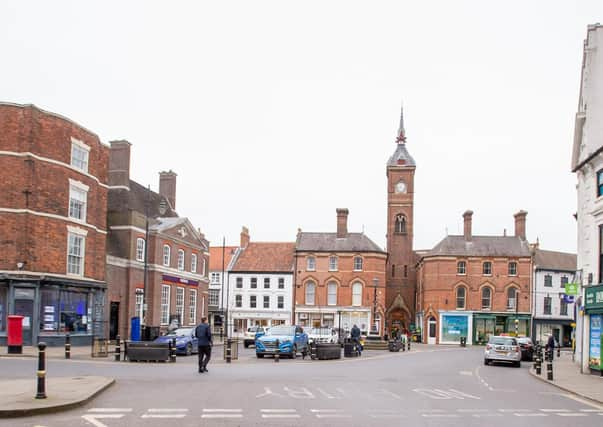 As reported previously, Lincolnshire County Council launched a consultation in March to ask for residents' views on eight schemes in towns across the county, including in Louth and Mablethorpe.
The proposals emerged thanks to the Department for Transport's Active Travel Fund, which has awarded £799,900 to give Lincolnshire people more opportunities to choose walking and cycling for their day-to-day journeys.
Today (Thursday) it has been revealed that five of these eight schemes have been supported by a majority of residents, although some proposals have been amended due to the public feedback.
Over 2,750 residents, businesses, and organisations across Lincolnshire completed the consultation which ended on Sunday May 16.
In Louth, 64% of consultation responses were positive towards the 'Louth active town centre' proposals, while 27% were unsupportive.
A statement from Lincolnshire County Council said: "Following consultation there has been largely very constructive feedback.
"Following site visits and individual representations to the Active Travel Team we would recommend the following changes to the proposal.
• Remove the proposed closures to Aswell Street and Burnt Hill Lane, This appears to be unwelcome. There will be access issues and residents have indicated that gradient and other factors are not conducive to making this a cycle corridor.
• Convert Market Place parking to blue badge only when market in not operational to increase disabled parking
• Protect the existing cycle lane on Eastgate with small planters
• Advisory 20mph Signage at entrance to Mercer Row
"These points deal with the main issues of contention raised by residents and would deal with the majority of issues the town council have raised."
Other supported schemes across Lincolnshire included the Grantham active travel zone; Lincoln Newark Road cycle lane protection; Skegness Lumley Road sustainable travel corridor; and Sturton by Stow low traffic neighbourhood.
Meanwhile, the three other prospective schemes in Mablethorpe, Boston and Spalding were not supported by the public, and will not be going ahead.
The plans for Mablethorpe - which included a motor traffic free corridor along a section of the High Street - were only supported by 22% of consultation responses, with 70% speaking out against the plans.
Councillor Richard Davies, executive member for highways and transport at Lincolnshire County Council, said: "We were clear when we launched this consultation that only those schemes with public support would get the go ahead.
"We've listened to what residents have told us and made amendments to schemes based on your feedback. We'll start work as soon as we can to put in the changes that residents have told us they want to see.
"Where these schemes are being implemented, they will be temporary for up to 18 months.
"If they work for the community, we can make them permanent. And if they don't, we can take them out again easily.
"Although they are temporary, we're keen for no community to feel like they've just got roadworks happening for 18 months so we will use high quality infrastructure to implement these changes, such as traffic planters.
"With some of the schemes not supported and so not going ahead, we've got some funding left it the pot. As such we're looking to consult on more prospective schemes very shortly for Stamford, Sutton on Sea, and Lincoln.
"Once again, these ideas have come from the public, and will only get the go ahead if they're supported by other local residents."