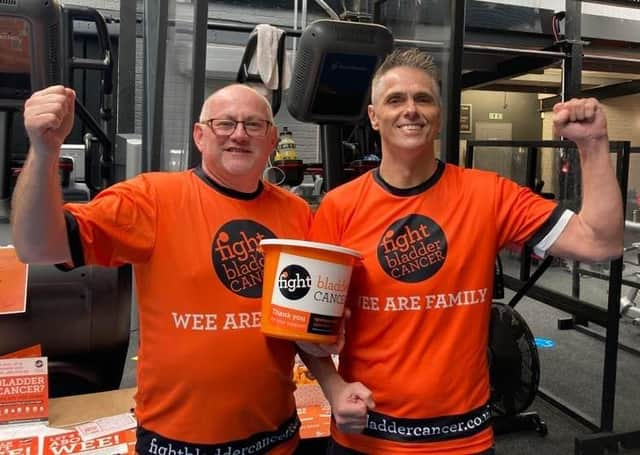 Three Caistor gym buddies have finally completed a virtual three peaks challenge – after it had to be postponed twice due to covid restrictions.
Sid Parkin, Andy Chambers and Kerim Djerbi each completed a distance of around 37km - the equivalent distance of the traditional Three Peaks challenge – on equipment at the B-Fit Lincs gym in Caistor's Brigg Road.
The aim was to raise awareness of the Fight Bladder Cancer charity – and they have also so far raised more than £2,000 for the charity too.
Leading the way was Sid Parkin, who was diagnosed with bladder cancer in 2018.
He said: "I want to thank everyone for their support in this challenge.
"The gym has been excellent letting us use the equipment.
"Amy and her team really pushed it the event too, which helped massivly."
Kerim set about completing his distance on a treadmill last Thursday, with Sid 'travelling' some of the distance with him.
Sid completed his own distance on Saturday using the stair master, which saw him ascend around 1600 flights to cover the distance.
Sid said: "In the real thing, you go up and down, but for us it was uphill all the way.
"It seemed ok to start with, but then, oh my goodness, as the day went on we really started to feel it."
Matching Sid step-for-step over the six-hour challenge was Andy, who pleased to offer his support.
He said: "I have a lot of respect for Sid – his positivity and the way he has overcome everything.
"I wasnt aware of bladder cancer until now; I have learnt so much.
"We need to fight all cancers, but especially this one as it is not as well known."
The majority of the money raised has come through the ir online giving page – and there is still time to make a donation.
Sid said: "My union rep has been really supportive and I am hopeful my application for the funding will be approved – which will double what we have raised.
"I am also grateful to Caistor Lions for their donation."
There is one other person Sid is thankful to: his wife Lisa, who is a cancer care co-ordinator at Grimsby Hospital.
He said simply: "She is my rock."
• Sid will be taking on another challenge later this year for the charity - the virtual London Marathon.
As a community champion for Fight Bladder Cancer, Sid will be one of 50,000 runners taking part in the event on the same day as the actual marathon takes place: October 3.
He said: "They asked me if I would do it - and I said yes, even though I have never run that far.
"It will be another good opportunity for raising awareness – and I am planning to get an orange body sit to run in, so you won't miss me!"
Sid will be devising a route around the Caistor area to cover the distance – and Andy has agreed to run the distance with him.