Chance to kick on for Lily in fundraising match
A fundraising football match has been arranged with all proceeds going to help a terminally ill little girl to achieve her dreams.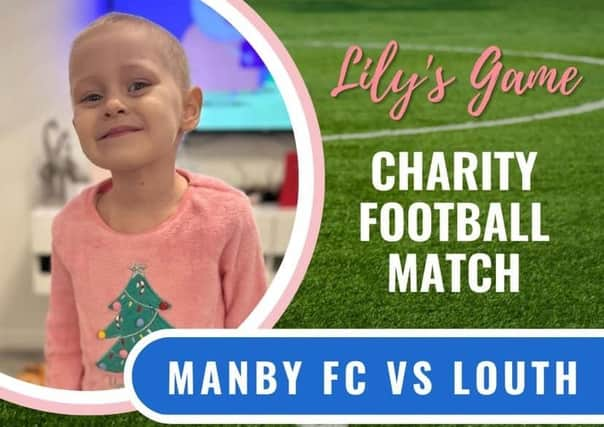 Little Lily Harley was given the all-clear from a rare brain tumour in October last year after months of treatment, but at a routine MRI scan it was found that the cancer had returned and there is nothing further that can be done.
Her godmother Brioney Johnson then set up a GoFundMe page to raise the money to send Lily and her parents Josh Harley and Emily Morton on the trip of a lifetime to DisneyLand Paris – which raised a staggering £52,000 in just one week.
Lily and her family are currently today (Friday) on their way home from their amazing trip to DisneyLand, and the GoFundMe has now reached almost £54,000 to help Lily tick things off her bucket list.
And now three of Josh's football colleagues at Manby Football Club – Tom McGrath, Jordan Flower, and Ryan Johnson – have organised a charity football match to boost funds further.
Tom said: "What they're going through is awful and it's something you can never prepare for, we've played football with Josh for years and we really wanted to do something to help."
Lily's Game has now been arranged by the footballers to take place on Sunday February 26, kick-off at 1pm at the Meridian Leisure Centre on Wood Lane, Louth, and the centre is also providing food and refreshments during the event.
The teams – Manby FC (The Lilys) and A Louth XI (The Unicorns), made up of the family's friends, family and colleagues – will be playing in yellow and purple shirts to represent Lily's favourite colours.
A raffle will also run, with all money raised going to Lily's appeal.
The organisers are now appealing to any local businesses who might be able to to help out with printing the names and numbers on the shirts to get in touch, and any more raffle prizes will also be welcomed.
If you can donate a raffle prize to Lily's Game, or would be able to offer assistance with printing, contact Tom on the Lily's Game Facebook page here.
Everyone is welcome to attend the match and cheer the teams on.