Generous donations of designer clothes given to Horncastle Community Larder's Christmas appeal
Thousands of pounds worth of high-end high street and designer brand shave been donated to help those in need in Horncastle.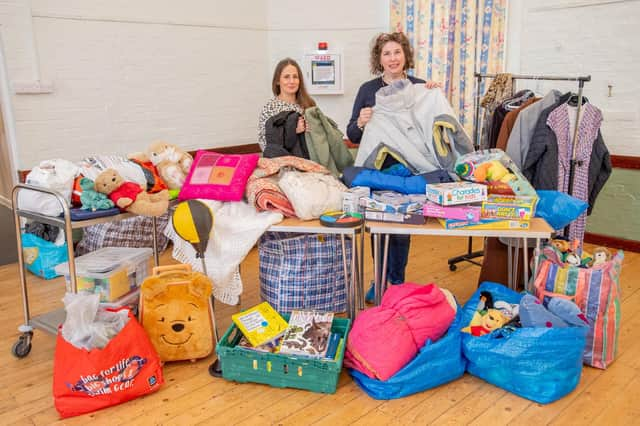 A well-wisher, who we are calling Anne as she wishes to remain anonymous, is a former Horncastle resident who wanted to do something to help those living in her former town in the current cost of living crisis.
She said: "I've been watching the news and it's just horrendous – these are such terrible times, and I wanted to do something to help."
So Anne contacted Isabel Forrester at Horncastle's Community Food Larder and asked what they needed the most, and warm clothing and coats were most in demand and Anne put the word out to appeal for any donations in her neighbourhood.
"It just spiralled from there," Anne said, "We extended the appeal to children's toys, baby items and more and as long as it was in good condition, we accepted them.
"There were lots of people helping – they've all given so generously."
"I got so much pleasure out of doing this," Anne added, "The ladies I gave the items to had so much pleasure too and with all the sadness in the world at the moment, I'm glad we were able to help."
Among the items donated to the Larder's Christmas appeal include Barbour and Joules coats and jackets, bed sets, children's toys and much more.
Some of the higher-value items will be auctioned off to raise further funds for the Larder's Christmas appeal.
Spokesman Isabel Forrester said: "We're so grateful to Anne for her hard work collecting all of these generous donations.
"The warm coats will be gratefully received by people in the Horncastle and surrounding areas who are struggling this winter."
Isabel is also appealing for anyone else who has any unwanted gifts they can hand out as part of their Christmas meal campaign to get in touch.
The Larder aims to provide a gift to each person who requests one of their festive parcels, and at present, the Larder is short of gifts for adults and teenagers.
Donations of gifts including toiletries sets, fluffy socks and other gift sets would be gratefully accepted, but no alcoholic beverages, and can be dropped off at St Mary's Church, St Margaret's in Thimbleby, Horncastle Methodist Church, St Lawrence School and Horncastle Primary School.