Get youngsters booked for Covid-19 vaccine over summer
Don't forget your covid vaccination this summer holiday, NHS Lincolnshire Integrated Care board is pleading.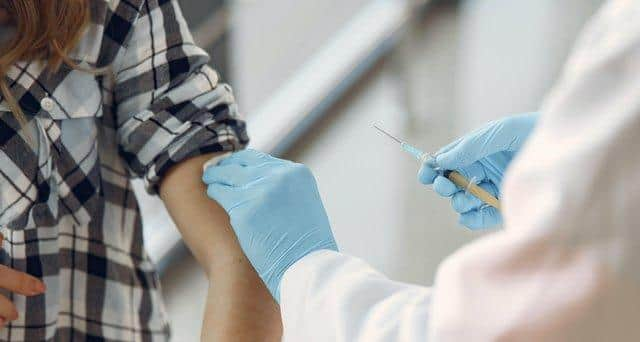 Covid-19 vaccines.
As cases of Covid-19 continue to rise and the summer holiday season has begun, the board is reminding people that there is still the opportunity to get the covid vaccination over the summer period.
Julie Humphreys, Head of Clinical Services, NHS Lincolnshire ICB said: "We are continuing to run regular vaccination sessions across the county, including many that offer the ability to just walk-in without the need for an appointment.
"The only thing that has slowed us down a little this week has been the very hot weather which has meant unfortunately we had to cancel or move some sessions. We have to keep the vaccines in a certain temperature range and we cannot operate outside of vaccine temperature range."
"But we still have plenty of sessions running and you can always find the most up-to-date list on our website www.lincolnshire.icb.nhs.uk/grabajab as well as information on who is eligible for the covid vaccination.
The vaccination teams will be running the following pop-up walk-in sessions and vaccinations will be delivered on a first come first served basis:
Monday 25 July at Ruskington GP Surgery Car Park (Van), Brookside Close, Sleaford NG34 9GQ between 10am – 6pm for anyone aged 18 and over – 'evergreen' 1st, 2nd and booster doses and 5 – 11 year olds and 12-17 year-olds including 12-17 year-olds who are currently immunosuppressed. Monday 25 July at Princess Royal Sports Arena, Great Fen Road, Wyberton, Boston PE21 7PB between 2.30pm and 19.30pm anyone aged 18 and over – 'evergreen' 1st, 2nd and booster doses and then 3.30pm – 7.30pm for 12-15 year-olds – anyone under the age of 16 must be accompanied by someone with parental responsibility Monday 25 July at Rustons Sports and Social Club, Newark Rd, Lincoln, LN6 8RN between 10.30am – 4.30pm for 12 -15 year-olds and 5-11 year-olds only Monday 25 July at Waitrose, Searby Rd, Lincoln, LN2 4DS (vaccination bus) between 10.30am – 3.30pm for spring boosters for people aged 75 and over (on or before 30th June 2022) and anyone aged 18 and over who is currently immunosuppressed in and anyone aged 18 and over – 'evergreen' 1st, 2nd and booster doses Wednesday 27 July at The Source, Sleaford South Gate, Sleaford NG34 7RY between 10am – 6pm for 5 – 11 year olds and 12-17 year-olds including 12-17 year-olds who are currently immunosuppressed - anyone under the age of 16 must be accompanied by someone with parental responsibility Wednesday 27 July at X Church, St Johns Terrace, Church Street, Gainsborough, DN21 1BY between 10.30am – 5.30pm for 12 -15 year-olds and 5-11 year-olds only Wednesday 27 July at Morrisons, Tritton Road, LN6 7QL (vaccination bus) between 10.30am – 3.30pm for spring boosters for people aged 75 and over (on or before 30th June 2022) and anyone aged 18 and over who is currently immunosuppressed and anyone aged 18 and over – 'evergreen' 1st, 2nd and booster doses Wednesday 27 July at Princess Royal Sports Arena, Great Fen Road, Wyberton, Boston PE21 7PB between 8.00am and 3.00pm anyone aged 18 and over – 'evergreen' 1st, 2nd and booster doses and then 3.30pm – 7.30pm for 5-11 year-olds and 12-17 year-olds – anyone under the age of 16 must be accompanied by someone with parental responsibility also between Thursday 28th July at Greyfriars Surgery (Van), South Square, Boston PE21 6JU between 10am – 6pm for anyone aged 18 and over – 'evergreen' 1st, 2nd and booster doses and 5 – 11 year olds and 12-17 year-olds including 12-17 year-olds who are currently immunosuppressed – anyone under the age of 16 must be accompanied by someone with parental responsibility Thursday 28 July at St Faiths, West Parade, Lincoln, LN1 1QL between 10.30am – 5.30pm for 12 -15 year-olds and 5-11 year-olds only Thursday 28 July at Princess Royal Sports Arena, Great Fen Road, Wyberton, Boston PE21 7PB between 8.00am and 2.00pm anyone aged 18 and over – 'evergreen' 1st, 2nd and booster doses Thursday28 July at Tesco, Gainsborough, DN21 2HA (vaccination bus) between 10.30am – 3.30pm for spring boosters for people aged 75 and over (on or before 30th June 2022) and anyone aged 18 and over who is currently immunosuppressed and anyone aged 18 and over – 'evergreen' 1st, 2nd and booster doses Saturday 30th July at Princess Royal Sports Arena, Great Fen Road, Wyberton, Boston PE21 7PB between 8am – 2pm for 5-11 year-olds and 12-15 year-olds – anyone under the age of 16 must be accompanied by someone with parental responsibility also between 8am and 7.30pm anyone aged 18 and over – 'evergreen' 1st, 2nd and booster doses Saturday 30 July at Heckington Show Hall Grounds, Heckington NG34 9JFbetween 9am – 6pm for anyone aged 18 and over – 'evergreen' 1st, 2nd and booster doses and 5 – 11 year olds and 12-17 year-olds including 12-17 year-olds who are currently immunosuppressed – anyone under the age of 16 must be accompanied by someone with parental responsibility Saturday 30 July at Waddington Village Hall, Mere Road, Lincoln, LN5 9NX between10.30am – 5.30pm for 12 -15 year-olds and 5-11 year-olds only Saturday 30 July at St Marks, Lincoln, LN5 7EX (vaccination bus) between 10.30am – 3.30pm for spring boosters for people aged 75 and over (on or before 30th June 2022) and anyone aged 18 and over who is currently immunosuppressed and anyone aged 18 and over – 'evergreen' 1st, 2nd and booster doses Sunday 31st July at Heckington Show Hall Grounds, Heckington NG34 9JF between 9am – 6pm for anyone aged 18 and over – 'evergreen' 1st, 2nd and booster doses and 5 – 11 year olds and 12-17 year-olds including 12-17 year-olds who are currently immunosuppressed – anyone under the age of 16 must be accompanied by someone with parent responsibility
For more information visit www.lincolnshire.icb.nhs.uk/grabajab