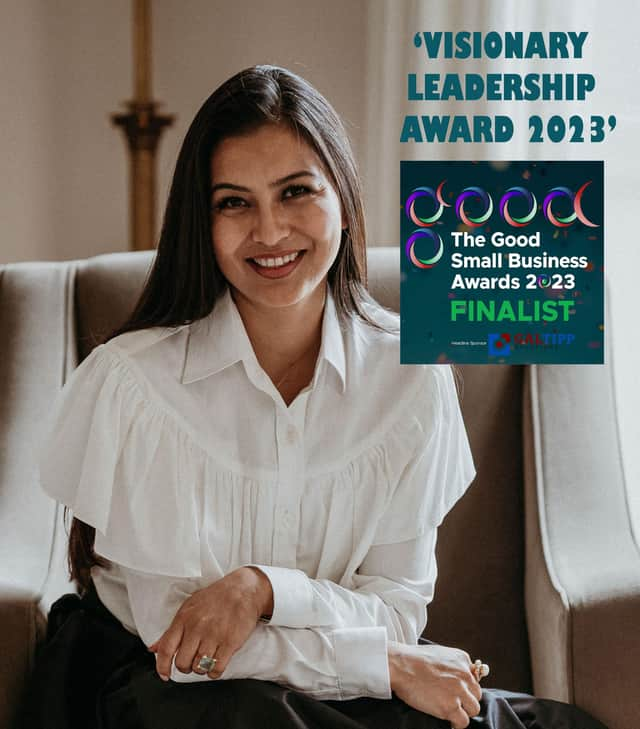 Bridal Fashion designer Sanyukta Shrestha has been shortlisted for 'Visionary Leadership Award' by The Good Small Business Awards 2023.
The UK's first national business sustainability awards exclusively for small businesses, the Awards night celebrates the work of small businesses doing the right things for people and the planet.
The event will be held on Wednesday, March 22, at the Hilton Hotel in Liverpool, where 15 categories winners will be announced.
"I am very thrilled to be the Finalist for 'Visionary Leadership Award," said Sanyukta, "I feel this award recognition is a steppingstone towards our vision of Sustainable fashion being truly the future of fashion, embracing the balance between people and planet."
Recognised as a the 'dawn of the sustainable bridal movement', Sanyukta Shrestha has been synonymous with a leading name in sustainable bridal fashion.The first British designer from Nepali origin to have her design preserved in fashion museum in the UK, Sanyukta has pioneered the concept of sustainable luxury since her first eco-friendly bridal collection in 2011, when sustainability was unknown as the concept we know it as now.
The philosophy of her brand reflects her as a person, a creative mind that fights for an ethical workforce, and the environment by representing a sustainable choice for brides, and a business that leads by example by giving back to the community, supporting the empowerment of women.
Sanyukta was also recently invited to attend Ahmedabad Design Week in India as a keynote speaker, along with other innovators of the design and technology world, including the Inventor of QR Code, Mr. Masahiro Hara; Dr. Greg Autry, the Clinical Professor of Space Leadership and Former Liaison for the White House at NASA; and David Kusuma, the President of World Design Organisation (WDO.org).
Other speakers include Harsh Wardhan, the Innovative Program Lead Google India; Daniel Boey, Godfather of Singapore Fashion; and Anand Jha - the Chief Design Officer at Miko Robot.