Have you got what it takes? Would-be firefighters invited to 'have a go' day at Sleaford
Lincolnshire Fire and Rescue Service is getting set to hold another of its 'Have a go' days, to give people an insight into what an On-Call Firefighter does and the required strength, fitness and aptitude.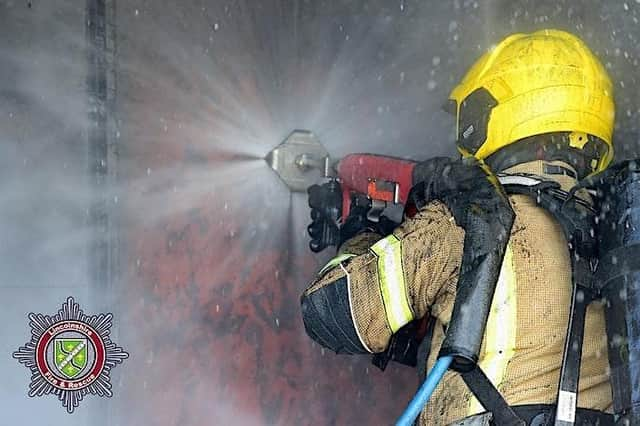 It is particularly aimed at anyone interested in becoming an On-Call Firefighter at any of the stations in the southern part of the county and will be held on Saturday, November 18 at Sleaford Fire Station on Eastgate, Sleaford, NG34 7EE.
On-Call firefighters play a vital role helping Lincolnshire Fire and Rescue provide a service to local communities.
A spokesman for the service said: "We hope to encourage members of our local communities to come forward, find out more about being an On-Call Firefighter and ultimately apply for a role.
"Our professional On-Call firefighters play an important role to operational response. They carry an alerter and respond to emergency calls, where they face all kinds of challenges within their local community, helping to create safer people and safer places. It is a paid role and is dependent on your personal availability and the number of calls you respond to."
This allows people to fit availability around other jobs and childcare.
Lincolnshire Fire and Rescue recruits for On-Call Firefighters all year round. To give people the chance to experience what it is like to be a firefighter, they have programmed in 'Have A Go' days monthly throughout the coming year. The 'Have A Go' days also gives people the chance to find out for themselves how rewarding a career as an On-Call Firefighter can be.
The service is committed to attracting the best candidates from all backgrounds so they have reserved a number of these sessions for 'positive action'. Positive action sets out to simply widen access and encourage people from underrepresented groups to apply.
Firefighting is a varied, rewarding and challenging role that involves far more than responding to fires. The 'Have A Go' days are also useful for people interested in firefighting as a full time career.
If you are interested in joining one of the following stations, this have a go event is a great opportunity to try out the selection tests and learn all about becoming an on-call firefighter: Billingborough, Brant Broughton, Sleaford, Bourne, Donington, Holbeach, Long Sutton, Crowland, Spalding, Market Deeping, Corby Glen, Grantham, Stamford.
You must be 18 years of age or over to participate and this event is for participants only - children and spectators will not be allowed on site for health and safety reasons.
The day comprises of a number of activities, including: equipment carry, casualty evacuation, confined space appreciation, ladder lift, simulated hose run appreciation.
Staff can answer any questions you may have.
Candidates will be invited to participate in physical activities and will be provided with the necessary protective clothing, however, you should wear: suitable footwear (trainers), suitable clothing (long sleeve top and running bottoms), long hair will have to be tied up, piercings will need to be either removed or taped up. Please bring a drink with you.
There are further have a go days at Waddington fire service training centre, on Sunday November 12 at 9.30am and 12.30pm.