Lincolnshire County Council reveals micro-asphalt plans for county roads
Seventy-seven roads in our county are getting a share of a £700,000 surface dressing roads scheme that starts this month, as Lincolnshire County Council describes what is involved.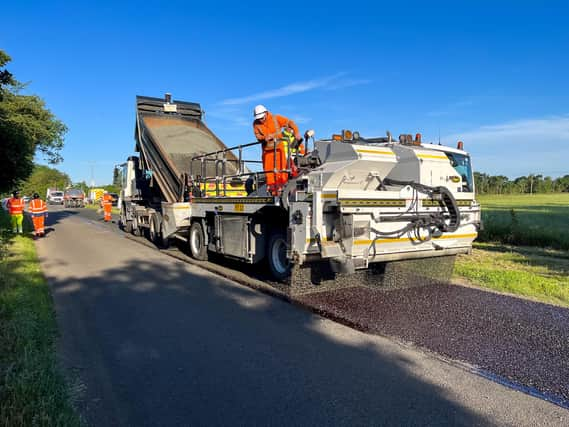 Selected residential roads across Lincolnshire are getting a special road surfacing treatment designed specifically for suburban areas.
Called 'micro-asphalt', the surface treatment is a preventative measure used to seal the existing road surface, improve the texture, improve skid resistance and help water evaporate.
This type of surface treatment can prolong the life of a road by up to ten years. The micro-part of the micro-asphalting means using smaller-sized material than would happen on rural road resurfacing.
These smaller stones and micro-materials are mostly used in residential areas where there's slower moving traffic because it's more resistant to the forces put through the road surface when a vehicle turns into a driveway or around a tight corner.
The work involves applying a base and top layer of slurry to the existing road surface which dries within 30 minutes and is then ready for traffic. It's a quick, clean process that greatly improves a road surface with each job taking between two to four hours to complete.
The schedule began on Monday (September 18) with teams laying the material for the next six weeks, subject to weather, and happening between 7am and 6pm, seven days a week.
Highways will be working with mobile road closures with on-site workers able to help and advise traffic accordingly.
Following the treatment, loose stones may remain on the road surface for a period, and temporary road signs will be used to advise motorists and motorcyclists to be careful.
Highways will monitor the road over the following seven days and return to sweep loose material, if required.
This type of work is weather dependent and bad weather means the work will be rescheduled. If we're unable to work on the date specified, please keep the road clear of vehicles the following working day.
Road markings can only be replaced after the final sweep has taken place which can be a few weeks after the works. Where needed, temporary signs are put in place reminding the public that road markings have been removed.
The full list of Lincolnshire roads that are getting the surface treatment
Shaftesbury Avenue Lincoln
Lady Bower Close North Hykeham
Oulton Close North Hykeham
Wroxham Close North Hykeham
Kinder Avenue North Hykeham
Ullswater Close North Hykeham
Medway Crescent North Hykeham
Estwaite Close North Hykeham
Derwent Close North Hykeham
Thirlmere Close North Hykeham
Windermere Avenue, Coniston Drive North Hykeham
Green Way/Sibthorpe Drive Sudbrooke
Cherry Grove Market Deeping
Still Close Market Deeping
Rosemary Avenue Market Deeping
Thyme Avenue Market Deeping
Clover Road Market Deeping
Bramley Road Market Deeping
Chestnut Way Market Deeping
Hawthorn Close Market Deeping
Beech Close Market Deeping
John Eve Way/Black Prince Way Market Deeping
Low Toynton Close Horncastle
Picksley Crescent Holton Le Clay
Hawker Drive/Pastures Drive Louth
Horseshoe Close Ruskington
Dorrington Close Ruskington
While the extensive surface dressing works are happening, the county council is issuing a warning after reports have come in of people being approached by supposed 'crews' who claim to be working in the area, carrying out surface dressing. They then claim to have have finished the job and just happen to have some 'leftover' Tarmac and stone chips. The 'crew' then offer to cover a private residence driveway for cash-in-hand.
And the people running it aren't working for the county council, they haven't got extra unwanted material in the back of their lorry, and what they are doing is illegal.
Richard Fenwick, Head of Highways Asset said: "This is a complete scam and simply doesn't happen with any works we carry out.
"The truth is that our contractors work with very little waste in the first place and all loads that go out from a depot, and then back again - should there be any extra material left over for whatever reason – are logged so that nothing like this can happen.
"Anyone claiming to have left-over material and willing to do a job privately for cash-in-hand is not being truthful. Our working practices don't allow for the type of situation they are suggesting."
Lincolnshire Trading Standards is investigating after receiving reports of a company touting for business by claiming to be working for the county's highways team.
Senior Trading Standards Officer, Sally Gray, explained: "We've been made aware of a company who are allegedly misleading people into believing they are from our highways team and offering to carry out resurfacing work such as Tarmacking or repairing potholes on private land.
"These scammers are claiming to be working on the roads nearby, and will have Tarmac left over. Once the work has been done, the individuals are then left with a huge, unexpected bill.
"Residents should take care to research any company before agreeing to contract them for any work. In this case, especially if they are responsible for a community facility – like a local sports club – or a town or parish council in the south of the county, as these seem to be the main targets."
Karen Cassar, assistant director for highways at Lincolnshire County Council, added: "A highways officer, or one of our contractors, would never approach someone out of the blue and offer to do work for them.
"If you are ever unsure whether someone is working on behalf of the highways team, contact the council on 01522 782070 to confirm before agreeing to anything."
If you think a business has broken the law or acted unfairly, you can report them to Trading Standards through the Citizens Advice Consumer Service. Visit www.citizensadvice.org.uk or call the consumer helpline on: 0808 223 1133.