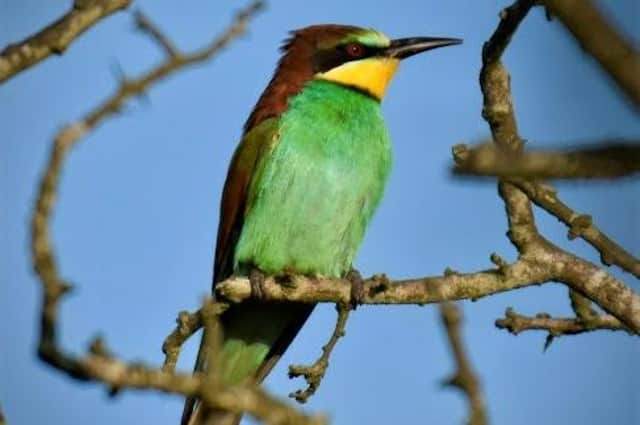 Thirteen birds with their glossy green and yellow plumage had roosted overnight somewhere locally and appeared over the west side of the Reserve early one morning.
Kev Wilson, Coastal Officer Lincolnshire Wildlife Trust, said the sighting was much to the delight of a small crowd of county birders, including one who was able to add it to his Lincolnshire list after 51 years birding.
Onlookers said from time to time the birds would rise up as a flock, calling loudly as if preparing to depart, only to move to another part of the Reserve
At one point they spent two hours around Mill Hill on the East Dunes before circling overhead, calling loudly, gaining height and moving out across the Wash towards Norfolk.
Interestingly, the group had lost one of the members and was reduced to 12 by the time they moved to the East Dunes.
It is understood the group had actually started out as 12 individuals when seen moving south down the Yorkshire coast but had been joined by an extra bird when they reached Gibraltar Point. The flock was later seen over Hickling, Norfolk.
Other new birds were also spotted – a Chiffchaff, a Blackcap and a Goldfinch; and six retraps: a Chaffinch, a Reed Bunting, a Chiffchaff, a Dunnock and two Whitethroat.
Paul Johnson tweeted: "Beautiful sunshine bringing one of Europe's most beautiful birds to Lincolnshire shores 20 May 23. The stunning Bee-Eater at Gibraltar Point. I may never take a better pic!"