Children sat patiently on the grass at St Peter and St Paul C of E School as headteacher David Hurdman thanked the PFTA for raising the funds to allow them to provide the outdoors activity – and East Lindsey councillor Jimmy Brookes for going along to open it.
Before cutting the ribbon to allow pupils on, Coun Brookes also praised the PFTA on their achievement.
"This is fantastic," he said. "Keep up the good work everyone."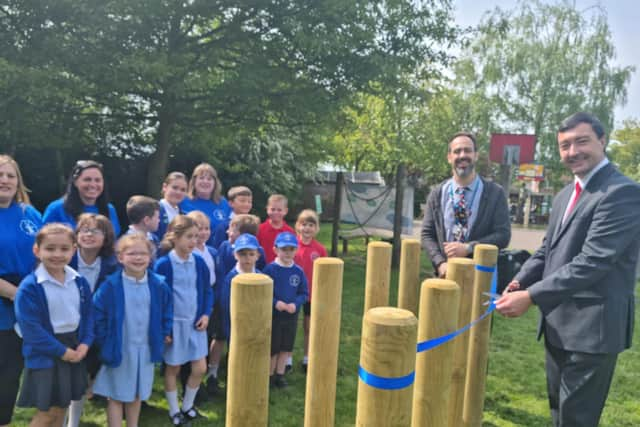 Coun Brookes joined the pupils and Mr Hurdman on the trail, which included various balancing challenges such as a board walk suspended by chains.
"I used to be a surfer," joked Mr Hurdman as he wobbled along the last stretch. "This is a fantastic addition to our school. It's great to have the support of the PFTA in providing this equipment which otherwise we would not be able to offer the children.
"I think I may struggle to get the children to go home tonight – break times and dinner times might be a problem going forward."
" Lincolnshire World spoke to two children who were bursting with excitement after giving it a try.
Faith commented: "It was amazing – definitely different. It's next level."
"Ashley said: "We've wanted one for a long time and we've been asking and the PFTA very kindly donated it.
"We would normally spend playtime on the school field or the concrete.
"Having the trim trail is really exciting."
"Hopefully we will be able to go on the field more often now we have got it because we all loved the old trim trail," added Faith. We'll all go on it."
Hannah Phillips-Cooper, treasurer of Burgh le Marsh PFTA, said they were delighted they had been able to provide the trim trail.
She said: "We are planning some more fundraisers so we can provide more equipment for the children. We won't stop here."
The next PFTA event is a Family and Community Bingo Night on Friday, June 9, at Burgh school at 6pm.