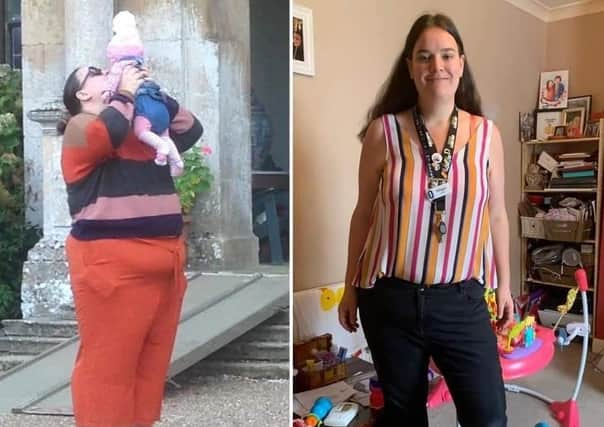 However, these three Rasen area woman have a head start- conquering diets and exercise to go into 2021 looking fabulous.
All three have managed to lose weight and take on a healthier life style during a tricky 2020 thanks to the support of their Slimming World consultant.
Leading the way is Megan Tribe, who has lost an incredible 7st 12lbs over the past two years.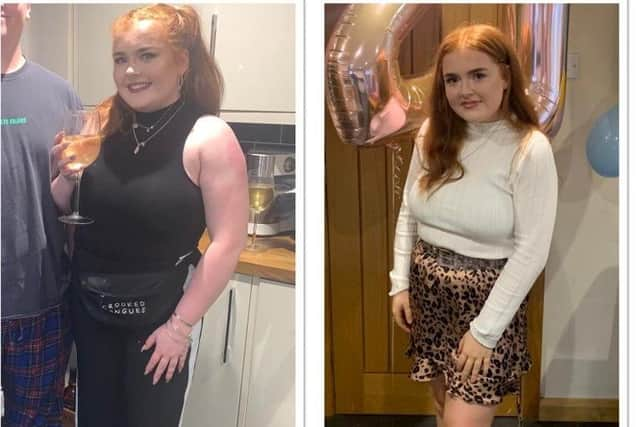 Megan joined the local group as a first time mum, when her baby was just six weeks old, and she was breastfeeding.
She continued with Slimming World while pregnant with baby number two, during lockdown and is currently breastfeeding her three-month -old son, with her hands still full with a now two-year-old diva girl.
Megan said: "I used to have takeaways, big rounds of sandwiches and would grab any high sugar snack.
"Now my favourite meals: are a crustless quiche, Slimming World pancakes and a full English veggie breakfast.
"I go out on walks for exercise and also do HIIT workouts ."
Lucy Eates has also changed her eating habits thanks to joining the group and has lost four and half stone.
She said: "We ate fairly well before at dinner times to be fair, it was bread, snacks, treats and booze that were the killer.
"I usually have fruit and yoghurt for breakfast now, and I'll have a jacket or a salad or beans or pasta for lunch, or leftovers from the night before.
"The girls have pasta sometimes in their pack ups, or a Wholemeal pitta, or sushi from Tesco!
"With that, it's about being aware of the syn values of the snacks and treats- hifi bars are a hit, and the low-syn crisps like space raiders or french fries are a good choice.
"We get through crazy amounts of fruit between us."
Lucy continued: " I think for me it's mainly about being a bit more aware of what you are consuming.
"I would happily have eaten a share bag of crisps or chocolates to myself, and there was a time when I was having a bottle of wine every night.
"Now, every chocolate is a treat, as it should be, and it feels special when we have a treat day, rather than it just being the norm. "
Lucy says it is all down to thinking a head.
"I'm a big planner and I like to be able to plan the meals and menus, which definitely helps.
"Planning and sticking to shopping lists too, because it stops you buying the other stuff."
Hannah Thompson is the youngest of the super-slimmers featured.
The 21-year-old, who celebrated her birthday during the second lockdown, has lost two and a half stone in six months, giving her confidence a real boost.
She said:"My eating before Slimming World was fad diets, starting every Monday, cutting everything out and then giving up a week later!
"Slimming World is so easy.
"By changing small things in my diet I have lost the weight.
"I can adapt it to working shifts - the fact that you can eat as much pasta as you want makes life so easy.
"Also, you don't need to cut anything out and you never go hungry - which has made me pick up great habits, changed the way I am cooking, snacking and doesn't feel like a diet.
"[Consultant] Michelle's support has been incredible; as I started SW during the first lockdown, I knew she was always at the other end of the phone to answer any questions or just there for support.
"I know BMI is not everything but when I started I was 'obese' and now I have a BMI of 27, dropped two dress sizes and feel so much more confident and happy!
"It's the best thing I ever did and something that I will continue as now I am only half a stone from target!"
•For information on local groups, call Annabelle on 07518 694015.
Top tips for life in lockdown .......
Team leader, Annabelle Stemp said: "We know Lockdown 1.0 saw many people put their weight loss on hold and many more people (over 50%) started to struggle with their weight and their mental health.
"We also know that excess weight is associated with weight related health problems and particularly concerning right now, an increased risk of dying from Covid-19 of a staggering 37%.
"Managing a healthy weight has never been more important than it is now, so here are some Slimming World's top healthy lockdown tips.
"Everyone's circumstances will be different, yet there are some tips that will apply to most of us during these challenging times, especially when it comes to staying fit and healthy."
It's so easy to get stuck in a bit of a rut when it comes to cooking. Take this time to try something new.
It doesn't have to be too complicated or time consuming – just something that makes you feel excited about cooking again.
It's easy to feel isolated during lockdown – as well as missing family and friends, just missing your normal day-to-day routine can have a big impact on the way you feel and, as a result, your eating and activity habits.
Staying connected is now more important than ever!
Video calls are, of course, hugely popular don't forget to make some healthy snacks to nibble while you're catching up too!
It might seem silly to suggest taking time out when many of us are spending more time at home than ever, but it's still important to practice a little self-care.
There's a lot happening in the world that we can't control and that can start to impact our motivation to stay in control of our eating and activity habits.
In these challenging times, people will be feeling more worried and anxious than usual
If current events on the news are a trigger for you, try to limit your exposure.