'We will listen' say council after petition to get lights switched on is relaunched
The authority that switched off the lights at night across Lincolnshire says 'it will listen' after a petition was relaunched over safety concerns.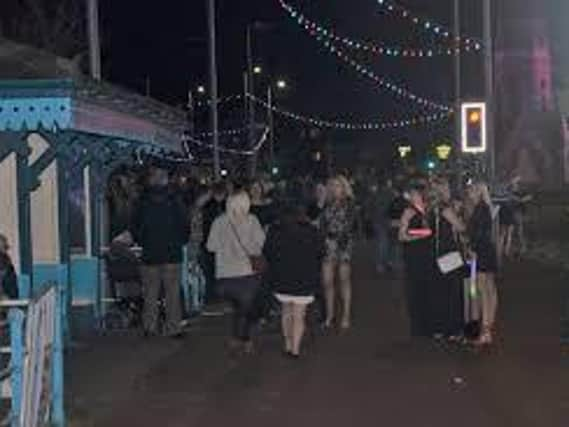 Lincolnshire County Council was responding to the reaction of local women following the suspected murder of Sarah Everard.
Many readers had contacted the Skegness Standard as it emerged women across the UK were setting up community patrols to keep each other safe - and in Skegness a petition to get the lights switched back on was relaunched.
The 33-year-old marketing executive disappeared as she walked home in darkness in south London last week around 9.30pm. Her body was found in woodland in Kent on Wednesday.
The incident sparked national outcry regarding the safety of women, prompting plans for Reclaim These Streets virtual and doorstep vigils on Saturday.
When we told Skegness Town Council about the concerns shared on social media by women living in the town, we were assured councillors had not given up the fight to get the lights switched back on.
Since the decision was made by Lincolnshire County Council (LCC) in 2017 to turn off Skegness' lights overnight as part an initiative to save £1.7million, the town council has explored the cost of getting them switch back on.
A Freedom of Information document shared with the Skegness Standard by Coun Steve Warmsley revealed that for a typical Band C property the contribution required by LCC would be '£1 per year'.
The document states: "To break this £1 down further into streetlight maintenance, streetlight electric charge and replacement poles it would only be pennies for each of these per year."
However, Mayor Coun Mark Dannatt told the Skegness Standard when in 2019 the council asked LCC how much it would cost to get the lights switched on they were told it would be £512,000 or £256,000 over 20 years if done as part of routine maintenance in 2023/24 - and the authority wanted the money up front as a single payment.
"The county council could not assure us that if the lights were switched on they wouldn't be switched off again," said Coun Dannatt.
"We are coming up to elections soon and policy could change - it was too much of a risk.
"However, that does not mean we have given up the fight. We are a coastal town and when our visitors return and businesses open up we do not want darkness at 10.30pm.
"Midnight wouldn't work for us either. But there has been no compromise - for instance, 3.30am when clubs close.
"We continue to urge the public to report any incidents when they are out at night and feel threatened.
"We need these incidents to be logged so police have the data which can be used to apply pressure to get the lights switched back on.
"It isn't just women who feel threatened, it's men too. There are streets in Skegness where I wouldn't want to walk alone.
"We need to work together to get the lights back on."
Coun Walmsley said: "It was not right for LCC to switch off the lights in the first place.
"The authority have a duty of care to all the LCC residents to keep them safe, which they are not doing.
"The cost for the 24-hours streetlight is already paid for by LCC residents and LCC are being paid for a service they are not providing.
"We call upon LCC to put the streetlights back on at night for the safety of all Lincolnshire residents and visitors."
Following the Standard's online article regarding readers' concerns, a petition on change.org has been relaunched and now has more than 743 of the 1,000 signatures needed to call for a debate on the matter.
Coun Simon Claxton who commented: "When I first launched the petition back in 2020, in spite of many people telling me they wanted the lights back on, we did not get enough signatures for anything to happen.
"We need the public to join us in this fight. It is not just women who are afraid to go out at night.
"When I had a pub punters were leaving early because they did not want to walk home in the dark.
"Families have been seen walking in the road and using their phones to avoid stepping into potholes and injuring themselves. It's an accident waiting to happen.
"This shouldn't be happening in a holiday resort. We need people to sign the petition to prove this is what the public wants."
In spite of assurance the petition will be considered by LCC, the authority still maintains police have found no impact on night-time crime levels as a result of the light s being switched off.
Karen Cassar, assistant director for highways at Lincolnshire County Council, told the Standard the issue of women's safety is about much more than streetlights.
She said: "I can completely understand why some residents, especially women, might feel concerned for their own safety after Sarah Everard's tragic disappearance in London.
"I know many women – from Lincolnshire and around the country – who don't feel safe alone after dark, even where there are streetlights, and also long before midnight which is when some in Lincolnshire are turned off. Unfortunately, the issue of women's safety is about much more than streetlights.
"In 2018, two years after we made the switch to part-night lighting for some of our lights, the police confirmed they'd found no impact on night-time crime levels as a result of the change. They said then, and have said since, that if they ever did have any concerns, they'd let us know and of course we'd work with them to see how streetlighting could help.
"We also have a system in place for parish, town or district councils to apply to convert any streetlights back to all night lighting for a one-off payment, if they think it's appropriate. To date, only four lights have been converted this way."
Lincolnshire Police have always maintained there is no link with any rise in crime and the switching off of lights.
However, our readers are not reassured by this. Here is what some of them said:
Kelly Peake: "I never walk anywhere alone at night now. I don't even feel safe walking home at 5pm -6pm in the winter when it's dark.
"Saying that it doesn't matter because I was followed and attacked near my home at 4pm on a sunny August afternoon.
"I also wish all men would understand that its hugely uncomfortable when they walk right behind us in an empty street.
"Yes, not everyone is a predator, but how are we to know? ! always hated people walking right up my back even before I was attacked.
"You power walk and they keep pace instead of hanging back and if you slow to a crawl they don't overtake."
Kirste Tuplin: "We should t have to feel nervous and scared but as a women when you're walking out and about on your own you feel you do need to be alert and on the ball and know your surroundings."
Lauren Graham: "I leave home before dawn and walk 20 minutes through the streets of Skegness in order to get to work.
"I find the walk very difficult for several reasons. As there are no street lights, I choose to walk on the road for two reasons - firstly as I cannot see the numerous piles of dog mess left on the paths and, secondly, to avoid bushes, bins and fences that people could be hiding behind.
"However I have hurt my ankle on several occasions after stepping down awkwardly into a pothole on the roads.
"I carry a torch and a panic button. The issue with a torch is you have to choose whether to light the floor in front of you or the street around you. In the eight years I have done this walk I have seen one PCSO patrol car.
"I would feel much safer if street lights had remained turned on during hours of darkness and if there was more of a police presence in the town."
Stephen Scarborough: "People would feel a lot safer with the lights on, it's not rocket science."
Sara Bright: "Lights should be on for the safety of women, men and emergency services, who sometimes attend volatile situations."
Sandra Lawrie: "Every woman needs to be vigilant anywhere anytime today I'm afraid. Prevention is better than cure, so be careful when out girls."
Ashley Samms: "Lights should be on and it should be legal for women to carry pepper spray along with a rape alarm, they should be given freely by the council or police etc for every woman that wants one."
Sarah Redford: "They need to be back on, its to dark if your on your own walking home, even just getting out of a taxi late at night, you don't know who is hiding or hanging around."
To support the petition to get Skegness' lights switched back on, visit 'Getting the Local County Council to turn our street lights back on overnight' on change.org.