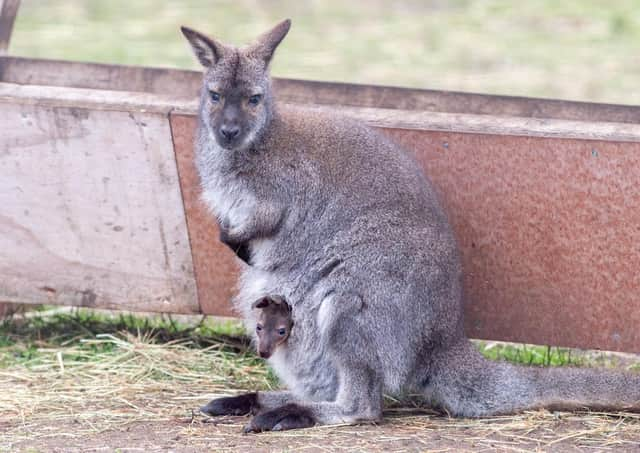 The programme is fronted by the former Eastenders star who spent two weeks filming alongside Andrew Riddel and Tracy Walters.
The programme goes behind the scenes with some of the country's keepers of wild animals.
The first part of the documentary will be televised on March 30 and the second episode will be aired on April 6 which coincides with the park re-opening on April 12 .
Mr Riddel explained: "We were approached to be included in the programme because when we first opened it was as a private collection which was the focus of the documentary.
"We are fully confident in the standard of animal welfare we provide and we have nothing to hide so decided to go ahead with the documentary.
"Ross and the production team were all very friendly and professional which led to an enjoyable few days' filming.
"We hope the love and care we have for our animals will shine through in the documentary."
Mr Riddel has become good friends with Ross
He added: "He came to Germany with me to meet a couple of my friends.
"Ross is just what you see on TV - an honest, straightforward - a really good guy.
"He's a big animal lover and was really impressed with what we've done.
"We still keep in touch and hopefully we'll be friends for a long time to come.
"He'll always be welcome here. Mind you, we haven't seen the programmes yet!"
What started with a single zebra soon developed into a private collection and now Andrew and Tracy have more than 200 animals in their care.
Following an abundance of public encouragement and a lot of hard work, they acquired a zoo licence and the park was rapidly establishing itself as one of Lincolnshire's premier tourist attractions when Covid struck.
Andrew, who runs a scrap metal and skip hire business, revealed work has continued round-the-clock at the park during lockdown which has sometimes proved difficult taking into account government guidelines.
They have lined up a host of new attractions and features that will open on a phased basis and, as ever, conservation plays a big part in the couple's plans.
The park will shortly welcome some red squirrels as part of an exciting breeding programme which hopefully will see the species re-establish itself in large parts of the UK, including Lincolnshire.
Work is continuing on a number of new enclosures- including relocating the lions within the park that will enable visitors to view them through the toughened glass window of a safari truck.
The movement of the lions to their new enclosure will free-up space for the exciting new arrival of two male Bengal Tigers which the couple hope to re-home in the very near future.
On-going, Andrew and Tracy plan to landscape between the car park and entry kiosk to include the addition of ponds, walkways, flamingos and pelicans.
The new features will also comprise of railings and street lights that might just be familiar to some regular visitors to the coast!
They were once on the seafront at Sutton on Sea but have been donated to the park by Tomlinson Construction as part of a renovation programme.
Footings are about to be put in place for a state of the art education centre which will enable the park to work alongside a number of universities, colleges and schools which have already shown an interest in linking up for education and research purposes.
A keeper's cottage is near completion which will house trained animal care staff who will be on site 24 hours a day, 7 days a week, assisting Andrew and Tracy who are permanent residents.
Visitors will enjoy new site features including a number of large wooden sculptures with a monumental carving of a bear weighing-in at five tons.
Andrew is excited about preparations to build a new indoor children's play zone, subject to planning.
All the above comes at a massive cost to the park without any income, government funding or grants.
Andrew said: "We are not a charity and very much appreciate any donations made to our Amazon wish list by members of the public.
"We've risked a lot and are taking a massive gamble in order to inspire tourists to visit our lovely town of Horncastle.
"We've had great support and hopefully the public will visit us again when we re-open on April 12."
While animals are always at the forefront of the couple's aspirations, they've also invested in a number of features that were part of planning and licence procedures.
Andrew added: "Under planning regulations, we have had to invest our personal resources to complete a 1.6 acre car park with 240 spaces which included finding funds for drainage, kerbs, white lining, eco-friendly lighting and tonnes of tarmac.
The free-to-visitors car park will also offer coach parking and allocated disabled spaces.'
Andrew added: "We've had to do it to meet the requirements and without it, we couldn't open.
"Most people don't see this side of the operation - or realise how much it costs."
The couple revealed the park has been operating on skeleton staff during Covid but they hope to employ more people as the park develops.
Andrew explained: "People often ask why do we do this?
"Why have you not just bought a villa and retired to a sunnier climate?
"My reply is, you've only got to look at what is happening to the world.
"We're killing our planet. We're killing our animals. How many animals you see today will be around in 30 or 40 years.
"And, who's the biggest killer? Us. Mankind."
When Wolds Wildlife Park re-opens on April 12 – entry will be based on tickets pre-booked online.
As with all other attractions, visitor numbers are restricted to meet all the Government's health and safety guidelines.
Joint owner Tracy Walters explain plans for the reopening.
She said: "The arrival time slots (10am-12pm and 1pm-3pm) are in place to avoid crowding at the entrance and encourage social distancing.
"We must limit how many visitors arrive at the same time but this does not mean you have to leave during a specified that time slot too."
Bookings can be made by visiting https://woldswildlife.co.uk/daypass/
Prices are: Adults £8; Children £5 (2-15 years); 2 Adults & 2 Children: £22. Free entry for children under 2 years old.
Entry is from 10am and the park is open until 5pm.
The last entry allowed will be at 4pm.
Opening times - and more of the park's attractions - may change in line with the Government's advice about health and safety.