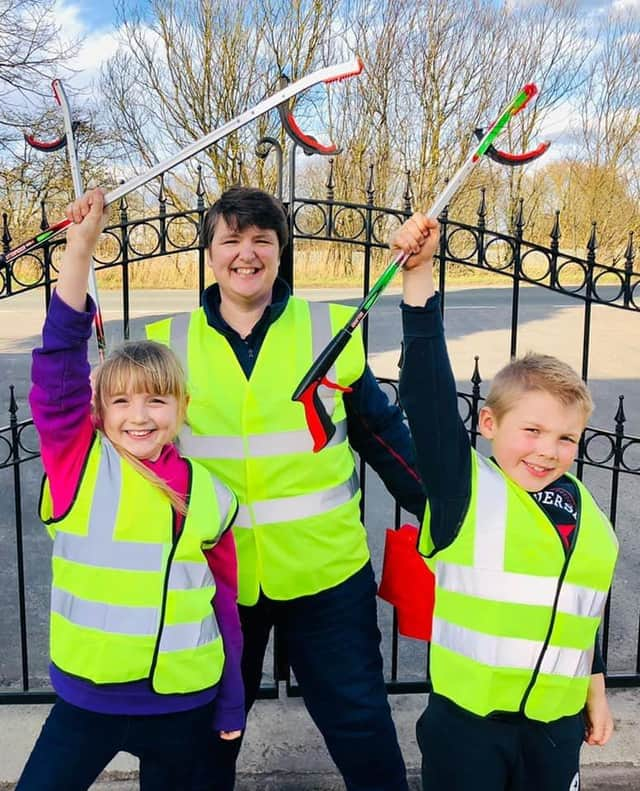 For Steve, grieving the death of his wife of 35 years Debs, it was putting into action a long-held bugbear about the decline in the state of the area.
And Steph had already been carrying out her own low-key litter picks for several years.
But the formation of the Wyberton Wombles has surpassed their wildest expectations – and the group is making an incredible impact on the litter-strewn streets.
With close to 500 members in just month or so, the group has been involved in numerous clean ups, collecting 300 bags of rubbish in the first three weeks it was active.
And the group is now establishing links with local firms through sponsorship and other support, and shops and fast food outlets who have carried out their own clear ups.
The message is now being spread to local primary schools, encouraging young children to be aware of their environment, says Steph.
Steve said he has been aware of the deteriorating state of the area for some time.
"For the last 10 years, I've thought that Wyberton and the local area has steadily declined and become messier," he said.
"With each passing week a dumping ground of litter and fly tipping seems to spring up and until now all I could muster in response was to complain about it and do nothing.
"However, on the November 5 2020 my life changed dramatically as I was devastated by the loss of the love of my life - my wife of 35 years, Debs.
"She had been living with a brain tumour for almost 12 years and had gone into hospital on September 28 due to a fall. Sadly, she never came out as she contracted COVID-19 while in hospital and after 6 weeks she lost her battle to these two terrible illnesses."
Steve spent a lot of time walking over the next couple of months, and the more he walked, the more litter and fly-tipping he passed.
"As it is one of Deb's and my pet hates, I decided to be proactive and ordered myself a litter picker, gloves and some bags.
"By mid-January I left home armed and ready for my first litter pick, only having to venture 300 metres from my house to begin work. Filling two bags, I experienced a flow of mixed emotions; on the one hand I was proud of my achievement, but on the other was absolutely horrified by the amount of littler on my doorstep.
Undeterred, two days later I took my war on litter to a dyke between Ralphs Lane and Millfield Lane. Three hours passed as I filled eight bags full of litter.
"I posted a photograph and my dismay in a Facebook update, receiving overwhelming support from friends and family - all praising my efforts but expressing their own disappointment in what they were seeing and why local government and residents were not doing more."
Although there was some cynicism with some telling him he was wasting his time, Steve was undeterred.
"With time on my hands and the void left by the loss of my Debs I pushed on - more picking, more Facebook posts and vitally more and more engagement with the local community."
And last month, he and launched the Wyberton Wombles Facebook group.
Since then, it has collected more than hundreds of people have joined the Facebook group – and many have posted their own clean-ups, as well as highlighting areas desperately in need of attention from the group.
Steph's involvement began when she put a post on the village Facebook group, asking if anyone wanted to borrow litter pickers from her, which Steve shared.
"But it truly started with Steve aka Great Uncle Bulgaria, who was doing mass picking and calling himself the Wyberton Womble (influenced by 'Spalding Wombles')," she said.
"I wanted to say from one litter picker to another what an amazing job he has been doing, and I asked him why doesn't he start a group, which then he replied he's not very technical and ask if I could. Please note I'm not very technical either! So that night I uploaded the group and we invited as many friends as possible."
Steph had been getting some supplies for her own clean ups from Boston Borough Council, and when she asked for more for the group, the council arranged for supplies of litter pickers and bages to be dropped off so Steph or Steve could leave litter picking kits outside their front door for people to collect while doing their daily exercise or shopping.
"I posted that I could get the equipment and for anyone interested to message me, I didn't expect the response that we got. The following day I had over 40 people wanting litter pickers, gloves, hi-vis and bags," she said.
The first collection was on Wednesday February 10, and then within the first few days, there were roughly 40 bags collected.
Group members include litter champions who have been doing it for years along with many new litter champions.
" We are all fed up with our local areas being neglected and have taken action towards making it cleaner and safer for everyone," said Steph.
"From those who are only able to collect a bag of rubbish to those who are trimming shrubs and clearing pathways.
"There is a lovely sense of community spirit and pride. All ages are getting involved and its lovely to see children so passionate about their environment and schools praising their amazing effects.
"We have seen active, quick response from the council when Wombles have 'Reported it' using the council website to clear fly tipping waste and action against dog fouling.
"And we have had hundreds of pounds of equipment from local small businesses donated to us. But we still need more... We are actively ringing, emailing larger chain companies within our local areas and are still awaiting feedback!!!!!! We still need more litter pickers, hi-vis, gloves and the heavy duty bags and this is only for this small area of the borough. It's been great to see other small villages starting their Wombles group too, but like us they are relying on donations as the council only has so much funding!"
If you would like to start Wombling, please contact Boston Council to see if there is a Womble group near you or to register your own.