Art patrons in Lowestoft, Suffolk are up in arms after a skip used by locals to illegally dump their rubbish was finally removed by the council. The issue has arisen due to the skip comprising part of a Banksy piece, which some art fans now consider ruined. Or in the words of one local art dealer, "like having an ice cream without the cone".
The mural, created by Banksy in 2021 as part of his 'spraycation' on the Suffolk coast, depicted a giant seagull swooping down to peck at chips from a chip basket. The basket on this occasion was represented by the skip, now leaving the mural on the side of the wall as that of simply a seagull.
The work, estimated to have been worth £2 million pounds, was unfortunately also used as a means by some Lowestoft residents to dump the rubbish they couldn't squeeze into their bins. With this happening one time to many, the skip housed on private land was removed at the request of the local council.
The landowner, who wished to remain anonymous, explained "East Suffolk Council complained about the mess and wanted to remove the barriers, the skip and the protective screening. We have it in storage. We have secured the protective screening and cleaned up the area."
A former tenant at the property the mural was sprayed onto, John Beasley, attests to the problems that the skip, brought in by Banksy's team, had in the area. "I was stunned. I heard the scaffolding being put up and taken down, and the skip being put in place. It made my block look so much nicer and the skip was a very clever touch."
"The skip has now more than likely gone because the local people used it like a bin rather than admire the art. By the time my family and I moved in 2022, it was less of an art piece and more of a dump."
East Suffolk Concil respond
An East Suffolk Council spokesperson said: "At no point has East Suffolk Council enforced the removal of the skip component of the Banksy mural on the side of the building at the corner of Denmark Road and Katwijk Way. The skip has been removed by the property owner and is now in safe storage.
"The initial artwork utilised the skip to tell a story - holding yellow insulation boards, to represent chips being stolen by the seagull. However these were removed by an unknown party last year and the skip has unfortunately been used ever since as a place to dump rubbish of any kind, encouraging fly-tipping.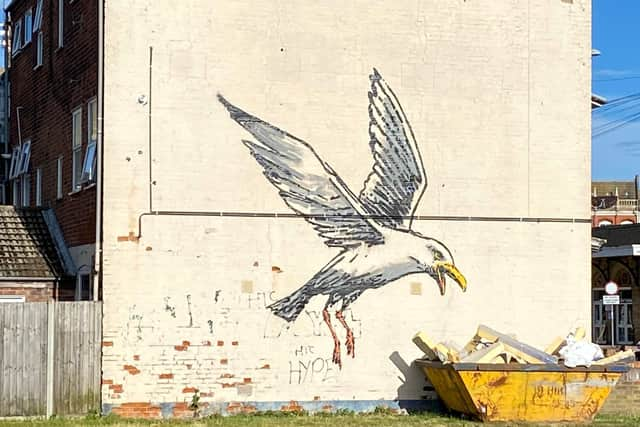 "Having funded the installation of protective screens at the site and continued to support the artwork's maintenance, we have been in discussions with the owner about the issues with fly-tipping and the general appearance of the site and he has now taken the decision to remove the skip.
"It is a great shame that the original meaning of the artwork was lost when the chips were stolen – but we know that Banksy has a history of producing dynamic artwork which does not always stay in its original form. While we do everything we can, within reason, to protect and maintain his pieces, sometimes it simply isn't possible."