"This time we're the bride!" The story of Boston United's Dr Martens title win - 20 years ago today
Today marks the 20th anniversary of Boston United being crowned Dr Martens League Premier Division champions. Duncan Browne looks back at that day...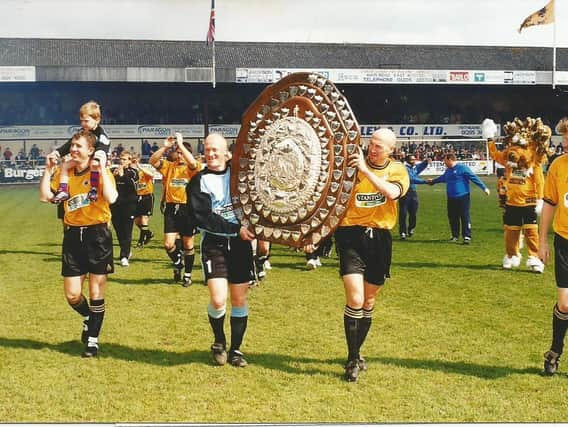 "We've always been the bridesmaid before. This year we're the bride."
It has been two decades since Boston United defeated Grantham Town 3-1 to be crowned Dr Martens League Premier Division champions, booking their return to non-league's top division. After seven years outside of the Conference, the Pilgrims were back after seeing off the looming spectre of Bath City and claiming the title.
The player stating that Boston could finally have their day in the white dress was legendary United goalkeeper Paul Bastock, who made 50 appearances that campaign as he won the first of his two titles with United.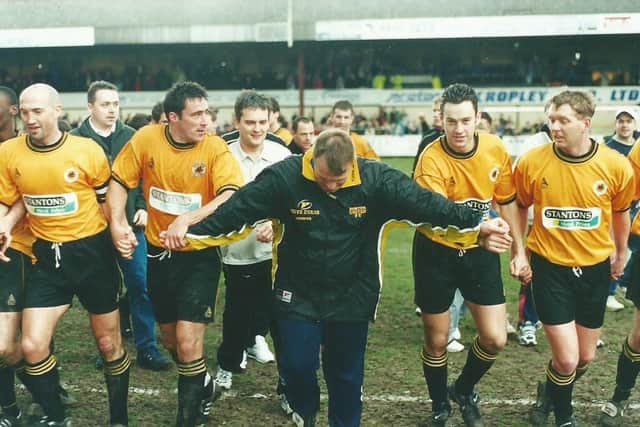 "No disrespect to the Dr Martens League, but this has put us back where we belong," he told The Standard in 2000. "It's what we've been working to for the past seven years.
"It hasn't always gone our way in the past. We've always been the bridesmaid before. This year we're the bride."
A crowd of 4,137 packed into York Street knowing that Steve Evans' Pilgrims needed just a point to become champions. But Boston gleefully grabbed all three against their Lincolnshire rivals... having to come from behind to do so.
Jim Neils' curling free kick put the Gingerbreads ahead via the underside of the crossbar in the first minute. But Boston fought back with gusto, striker Mark Rawle heading the hosts level. After the interval Andrew Stanhope rattled the Grantham posts before Rawle netted his second of the day to all-but secure the title.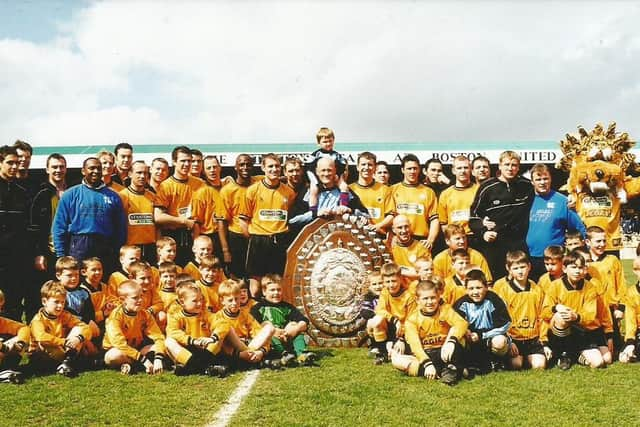 With nine minutes to go both hands were on that huge Dr Martens shield as Gary Childs slotted home after Mario Ziccardi - under what could politely be described as close scrutiny from United's rough and tumble striker Micky Nuttell - spilled the ball.
"I think it was an all-round real squad achievement," said skipper David Rennie, the former Leeds United defender. "We fielded around 20 players and, yes, different players have played well at different times, but they all did a job."
Indeed, they all had to do a job in a long, tough season that went almost to the wire, despite the Pilgrims topping the table from September until the end of the campaign.
Nuttell's return to his home town club raised a few eyebrows in the summer, but the move was vindicated as the forward scored a brace as United kicked off the campaign with a comfortable 6-0 home win over Salisbury City on August 14.
United were the real pacesetters as they won their opening five league contests, scoring 17 and conceding just twice.
"I am on such a high," said manager Evans as the Pilgrims recorded their best-ever start to a league campaign.
Defeat number one arrived at old foes Ilkeston, managed by Keith Alexander, on August 30 in an ill-tempered affair which sparked an FA enquiry. Ilkeston's goal that day was scored by Kevin Noteman, who was to join Boston a month later.
A routine win over Atherstone and a 1-1 draw at Nigel Clough's Burton Albion follow before United found themselves involved in knockout action. FA Cup wins against Oldbury and Purfleet set up a clash at Conference side Kingstonian. But before that there was a league success against Weymouth and an FA Trophy defeat to Leigh RMI, in which testimonial man Martin Hardy registered his sole start of the season. United held Kingstonian to a goalless draw before losing the replay 3-0 at York Street.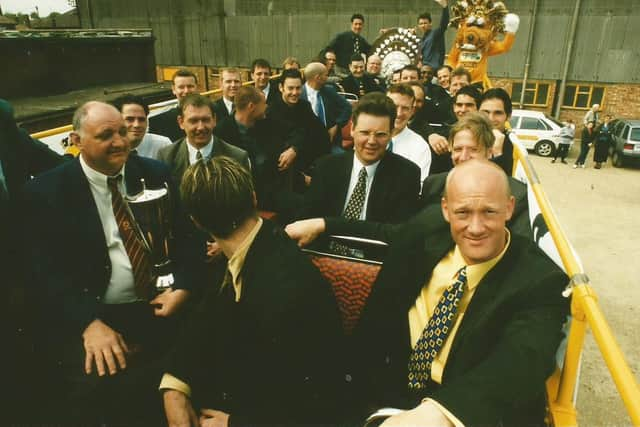 "It was a good thing we went out of the cups early," confessed defender Colin Hoyle at the end of the campaign. "While we didn't want to, in hindsight it was a good thing. It helped us.
"Bath had some good cup runs and the fixtures piled up for them while we put points on the table and pressure on Bath."
Indeed, during October's busy schedule the Dr Martens title race began to take an odd shape... the Pilgrims out in front but Bath close behind with games in hand which - if won - could see them go top.
City were, in fact, United's next opponents following that cup defeat to Kingstonian in a contest which ended in a 1-1 draw.
"I see it as an opportunity lost," Evans said with Boston a point ahead but the away side having two games in hand.
Dejected Boston responded by thumping Cambridge City 5-0 but needing Noteman and Nuttell to net as they twice came from behind to draw 2-2 at struggling Gloucester City.
November saw the Pilgrims put their patchy form to bed. The month may have begun with a 3-2 Challenge Cup defeat to Wisbech but three straight victories against Dorchester, Rothwell and Tamworth followed, before draws against Newport and Clevedon.
December was a huge month for United, beginning with the arrival of Burton. Darren Stride put Albion ahead before a moment of magic from the home side. Andy Kiwomya, who missed much of the campaign due to injury, went on a mazy 60-yard run which was finished off by Lee Power's close range finish. Nuttell and Noteman completed the 3-1 win and suddenly the title looked like it could be United's, right?
Wrong! United were held at Atherstone before suffering a miserable 2-0 defeat at title rivals Bath seven days before Christmas. If having to watch the hosts celebrate as 'We Are The Champions' blarred out from the PA system wasn't bad enough, heavy snow left the United bus stranded on the roadside during their journey home.
A horrible festive period was rounded off on December 27 when bitter rivals King's Lynn left with a 2-1 victory, the game notable for Dave Robinson lobbing Bastock from 40 yards.
The league table saw Boston top, albeit precariously. They were five points ahead of Margate, who had two games in hand, and seven ahead of Bath, who had played five fewer games.
Burton also had the opportunity to leapfrog Boston if they made the most of their three games in hand.
"My squad's been ripped apart at the moment, but injuries and suspensions happen over a season," Evans said. "After the defeat at Ilkeston we went on an unbeaten run of 14 matches. What we need to do now is go on a 15-match unbeaten run."
United didn't quite manage that, but they did only lose once more in their final 20 league contests.
Mark Rawle (two) and Peter Costello were on the scoresheet as Boston made it a happy new year with a 3-0 victory at Grantham Town to kick start their January resurgence. Five straight victories followed against Salisbury, Margate, Ilkeston, Crawley and Merthyr Tydfil.
February 1 saw teenage attacking midfielder David Norris leave for Premier League Bolton Wanderers, sparking a transfer merry-go-round at York Street that would last throughout February. The club paid Diss a reported £4,000 for midfielder Adi Hayes while striker Shaun Keeble arrived from King's Lynn. Paul Raynor joined rom Ilkeston, with Kiwomya and Noteman moving in the opposite direction.
February 5's 2-1 defeat at Margate - which saw Paul Watts hospitalised with a head injury - was Boston's final loss of the Dr Martens campaign, although a county cup defeat against Grimsby Town did arrive four days later. But from then on, United were unbeatable.
Twelve points were picked up from the next four matches as Havant and Waterlooville, Halesowen Town, Crawley Town and Worcester City were all put to the sword. A 3-3 away draw at Havant and Waterlooville followed with Evans rueing points dropped ahead of a blank weekend.
"Boston have done fantastically well, you have to take your hat off to them, but the title's in our hands," Bath boss Paul Bodin told The Standard that weekend (March 18). "It's a tall order but I'm confident we have enough to do it."
Bodin had every right to be confident, his side had only lost one league game all season when he made those comments. However, Bath weren't to win again until mid-April, their next four matches all defeats.
Back from their rest, United faced two matches in three days - a 1-0 win at home to Crawley and a 2-1 success at Worcester, watched by Bodin and a number of his players. United still had the points and Bath the games in hand. But by now City required a miracle as they trailed United by 14 points with three extra games to play. The Pilgrims also had a superior goal difference of 22.
April Fools' Day's 2-2 draw at Weymouth was followed up by a 6-1 hammering of a lacklustre Gloucester City side seven days later. Costello netted a hat-trick, Rawle grabbed two and Craig - son of Sam - Allardyce also got on the scoresheet as United ended the day needing just a point to be crowned champions.
Another blank weekend meant the Pilgrims had a nervy two-week wait for the Easter arrival of Grantham. The Gingerbreads may have opened the scoring but it was the Pilgrims who secured victory, sparking a pitch invasion at full time. The Pilgrims are going up!
Forty-eight hours later Bastock saves two penalties as the Pilgrims draw 0-0 at King's Lynn. The final home game of the season saw the Pilgrims parade the huge Dr Martens Shield prior to their 1-1 draw with Newport - with Norris back as guest of honour to collect an award in appreciation of his services that season - before ending the campaign with a 4-3 victory at Dorchester Town.
Boston ended the campaign with 92 points, 14 clear of Burton Albion. Margate finish third with Bath's poor run seeing them eventually finish fourth.
"I think we had the best team as well as the best squad," midfielder Steve Appleby reflected on the season. "We've been consistent and played some outstanding football. We've been top of the table since day one and handled the pressure."
Indeed, the ability to handle to pressure was something Bastock agreed with.
"Where Bodin slipped up was signing kids on loan from league clubs," he said. "You don't sign kids to win leagues, you sign men."
The squad (all competitions): Paul Bastock (50 apps), Joby Gowshall (50), Andrew Stanhope (50), David Rennie (48), Paul Wilson (47), Colin Hoyle (44), Peter Costello (40), Micky Nuttell (40), Mark Rawle (36), Gary Childs (31), David Norris (31), Steve Charles (24), Paul Watts (21), Lee Power (20), Kevin Noteman (18), Paul Raynor (12), Lennie Curtis (11), Andy Kiwomya (11), Shaun Keeble (10), Andy Lodge (10), Adie Hayes (8), Gary Porter (8), Mark Melson (7), Steve Appleby (5), Johnny Walker (5), Martin Hardy (4), Andy Taylor (4), Kevin Slinn (4), Ross Nicholls (3), Craig Allardyce (3), Jason Burnham (2), Jim Dobbin (2), Ian Stringfellow (2), Danny Dack (1), Jason Sedlam (1), Leigh Taylor (1), Neil Timby (1).
The top scorers (all competitions): Mark Rawle (22), Micky Nuttell (12), David Norris (11), Andrew Stanhope (10), Peter Costello (9), Paul Wilson (7), Colin Hoyle (7), David Rennie (6), Lee Power (5), Shaun Keeble (5), Gary Childs (4), Paul Watts (4), Steve Charles (3), Kevin Noteman (2), Andy Kiwomya (1), Adi Hayes (1), Kevin Slinn (1), Craig Allardyce (1), own goals (2).