"I can't wait!" Jack Bell gearing up for life in the professional ranks
Teenager set to compete in Flat Track National series...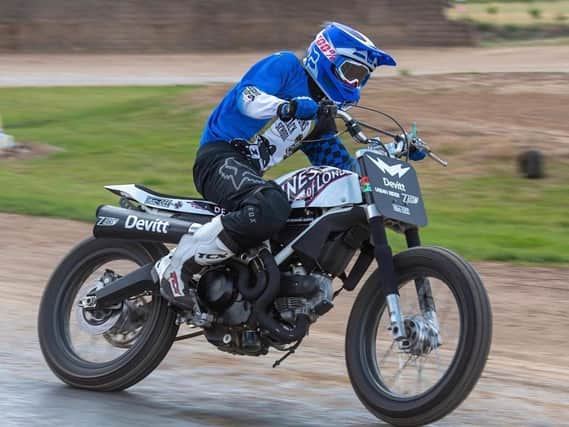 Jack Bell is preparing for a return to racing - with his first year in the professional ranks, writes Helen Pask.
The Cranwell youngster is ready for a full season in the Pro class Flat Track National series with Dirt Track Riders Association riding for the Champions Flat Track School.
"This will be my first year in with the pros, I can't wait to take on this challenge," he said.
"I am also racing a Hooligan bike in the Dirt Track Riders series.
"I am riding the DMOL (Death Machines of London) X Devitt Ducati scrambler.
"This is also a new challenge for me this year. Having a good team behind me I can't wait to get started.
"There are a few events I am looking forward to with the Scrambler including the Malle Mile beach race and Malle Mile festival.
"It's also great to see a new series, Dirt Track Events beginning with the support of Karl Rushen and Trevor Heath.
"I also plan on doing a few races in the Freetech Endurance Championship on a tarmac surface.
"Fingers crossed the beach racing at the end of the year goes ahead too!
"At the beginning of the year, there were plans of doing a European championship but unfortunately, it has been cancelled."
The 17-year-old Lincolnshire rider has already clinched a number of titles in his career to date including seven Mablethorpe Sand racing titles and the DTRA British Youth Senior British Flat Track Championship in 2019, alongside countless other wins in speedway, supermoto, grass track and beach racing.
He also travelled to Spain where he took part in the Marc Marquez training campaign in 2015 and 2016.
He began his career at the young age of nine at the Chris Walker Motocross track at Grantham before taking up sand racing at Mablethorpe a year later.
He said: "I started flat tracking in 2015 when I was 12.
"During this time I played about with speedway on a Daytona 150.
"I went on to ride in the British Youth speedway series for the Peterborough Thundercats in the Northern Junior League.
"Since 2019 I have focused mainly on Flat Track which seems to be working well for me.
"I also contested a few Supermoto races with the British mini bike series on my Supermoto set up pit bike.
"I really enjoy racing at Scunthorpe; it was a good learning curve in my first pro year on the 450 so it was good to get familiar with different track conditions, and racing in general and the new challenge of using Dunlop tyres.
"I didn't really have a bad round in the championship. I was consistent throughout the season and had no crashes! I enjoyed a lot of overtaking and battles with my competitors when I have been trying to work my way to the front and secured three wins and a second place on the way to winning the championship.
"It has really boosted my confidence on my CRF450 and given me a good indication of what to expect from my first year with the pros. It's taught me a lot about the bigger bikes and I know what I need to work on."